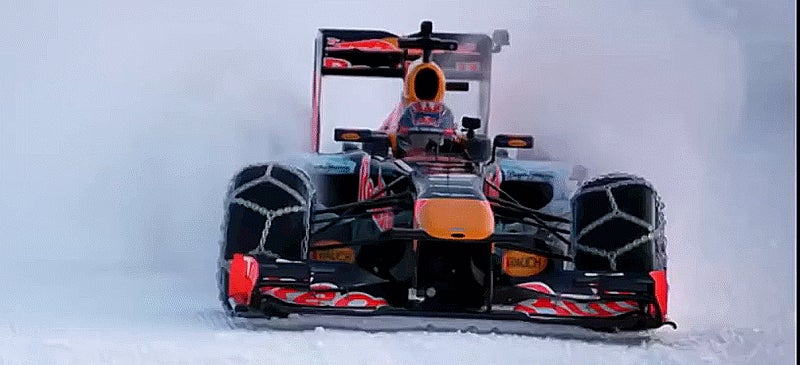 Just a few days ago we all enjoyed watching Dutch F1 racer Max Verstappen charge up Kitzbühel's ski slopes and do donuts in the snow with his 800 horsepower race car. Austrian authorities were less apparently enthusiastic though, and want to fine Red Bull almost $33,000 over the stunt.
The spectacle, attended by 3,500 people live and seen by almost a million online by now, was intended to "promote this year's Austrian Grand Prix," according to AutoWeek. In case you haven't heard, putting on fully sick performances is kind of what Red Bull does.
But Austrian news outlet Tiroler Tageszeitung says the company may have made some oversights when they put this together; "As the Kitzbühel district captain Michael Berger… confirmed the organizers should have namely to apply for an official permit." (Translated from German.)
As Road & Track's Bob Sorokanich notes, it's a little tough to drag details out of a "herky-jerky Google translation" but it sounds like the Austrian authorities have beef with Red Bull because they're calling this stunt "a mini F1-race," rather than just being mad over the car being driven on snow.
After all, a ski resort would probably be private property and they'd be running their own vehicles on it all the time, right?
It sounds like authorities are still trying to decide what exactly to do, but whatever their ruling, $33,000 is chump change when you're budgeting for an event that involves moving a Formula 1 car by crane, renting out an entire slope and paying Verstappen's overtime.
Images/video via Red Bull
---
Contact the author at andrew@jalopnik.com.