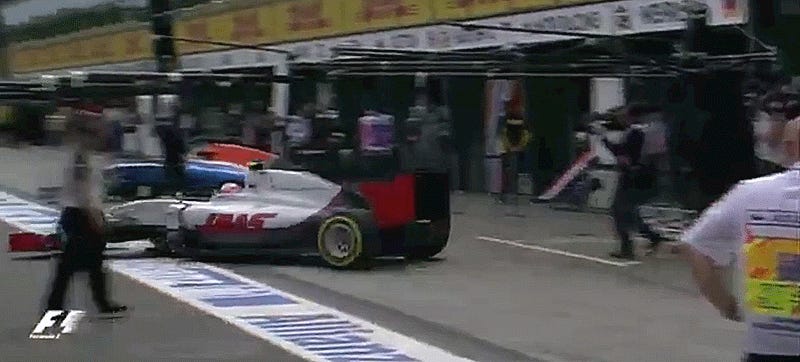 So, there's an "unsafe release" from a pit stall, and then there's just plain letting your driver whack into another car. Someone in the Manor pits wasn't paying enough attention when driver Manor driver Rio Haryanto was released smack-dab into Haas driver Romain Grosjean's car during Free Practice 3.

Free Practice 3 had barely started when it brought us the first moment of genuine Formula Oops of 2016.

The commentators do admit that visibility up the pit lane for someone in Haryanto's situation stinks as you're coming out of the garage, but that's all the more need for someone on the team to be watching for oncoming traffic. Haryanto and Grosjean were both released at about the same time, but Haryanto was considerably slower to get moving, leading to the crash.

Haryanto's front wing was broken in the snafu, and Grosjean's car was gently nudged in the side.

This doesn't bode well for American newcomers Haas. Haas team principal Günther Steiner already told Adam Cooper's F1 Blog that they were being extra careful this weekend, as they were short on spares for their inaugural race:

We have got everything before the race. When I say everything, I mean 90 per cent. We cannot have two crashes with the same car, you know. We have at least one of each part, most of them two, so for each car one set, but we cannot take big risks. If we had damage today or tomorrow… The last thing we want is to miss the race. That would be silly to come here in these conditions and take risks. That was the biggest thing today; do not take any risks.
Hopefully this is the most drama either team experiences this weekend. Both the Manor and Haas teams have floated around towards the back of the pack in all three practice sessions. Surprise, surprise: Mercedes' two drivers—Hamilton, followed by Rosberg—set the fastest times in Free Practice 3, with Ferrari's Sebastian Vettel only two-tenths of a second behind Hamilton.

You can find the fastest times from all three practice sessions here.

Update:F1 Fanatic writes that Haryanto has just received a three-place grid penalty for this incident, plus two penalty pointson his license.