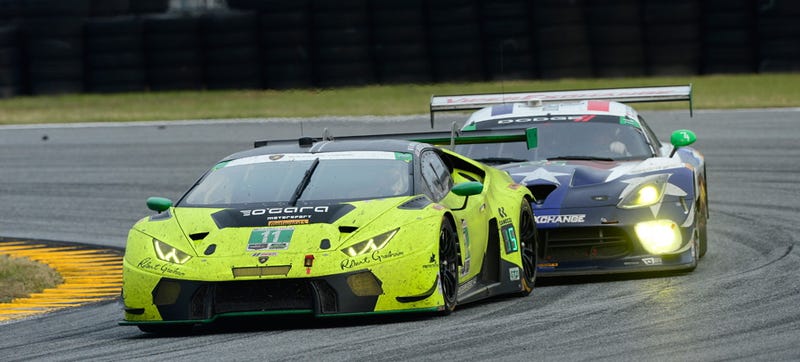 An unapproved restrictor is allegedly to blame for the Lamborghini Huracán GT3's insane performance at this year's Rolex 24 at Daytona. According to Racer, IMSA slapped every Lamborghini in the GT Daytona class with a sandbagging-related penalty today, moving a couple competitors down in the results.

Because the IMSA-sanctioned WeatherTech Sports Car Championship features such a variety of machinery in both of its GT classes, a Balance of Performance (often abbreviated as "BoP") system is used to place the different cars on a relatively equal playing field. Under the BoP system, restrictor sizes can be adjusted and weights can be added so that a Huracán can play in the same sandbox as the Dodge Viper, Porsche 911 and other like machinery and (when the system works) not run away from the rest of the field.

However, IMSA needs accurate data on the cars' performance in order to make things equal, and it was pretty obvious that they didn't get the data they needed to balance out the Lambos during this year's Rolex 24. While everyone got busted for underperforming at during preseason tests, there was something that even IMSA's fancy new data systems couldn't correct for on the new-for-2016 Lamborghinis that raised many, many eyeballs during the race.

Normally, I write off most Balance of Performance-related chatter as rationalizations for "why isn't my favorite team winning?" or at their worst, B.o.B-grade conspiracy theories. Overall, the series seems to do an okay job with making sure no one car runs away with everything. Occasionally, they make some odd choices with BoP, but it changes from race to race, so the outliers don't tend to be outliers for long.

However, the Lamborghinis were so much faster than the rest of their competition that even I was cracking jokes about BoP mid-race.
According to Racer, Townsend Bell's fastest GTD-class lap of 1:45.873 in the No. 11 O'Gara Motorsport Huracán GT3 during the Rolex 24 was a full 1.343 seconds faster than the best lap of the race-winning Magnus Audi R8 LMS GT3. Other manufacturers had also taken notice of the blisteringly fast GTD-class Huracáns during the weekend and had already started lobbying IMSA for a BoP adjustment on the Lambos after the fourth practice session for the event.
Ultimately, IMSA stuck with the BoP adjustments it had already given the Huracán GT3 and monitored the Lamborghinis' performance during the race. When we inquired with IMSA as to what their response to the uproar over the Huracán's performance (if any) would be, they confirmed that they impounded several engines for inspection after the Rolex 24 in order to gain a better understanding of the Lamborghinis' performance. Likewise, they would use their findings and examine data logged during the race itself to make any necessary BoP adjustments before the 12 Hours of Sebring.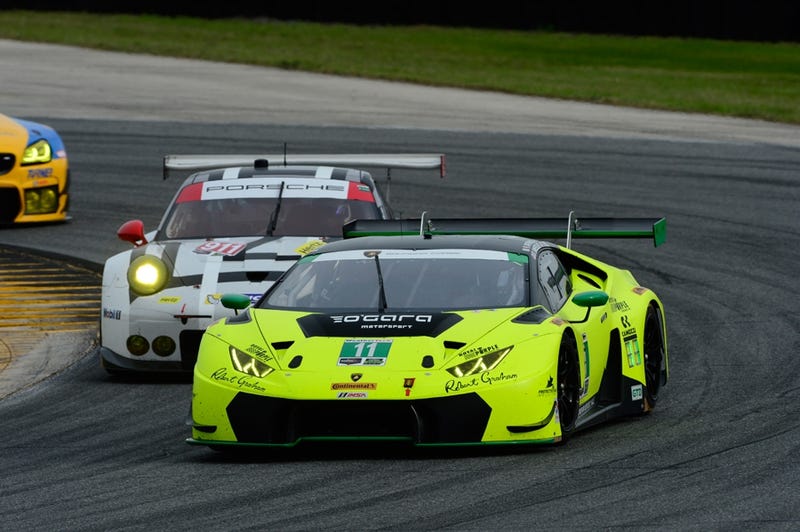 Apparently they found a doozy, as all of the GTD-class Lamborghini Huracán GT3s—Nos. 11, 16, 21, 28 and 48—were penalized for violating IMSA's Sporting Regulation Attachment 2, Paragraph 2.9, which reads:

Competitors and Manufacturers are expected to provide valid data upon request to assist IMSA in the BoP process. Any Competitor or Manufacturer who deliberately gives false information, attempts to influence the BoP process, or displays a level of performance beyond the expected result may be issued a penalty prior to, during, or after a Race of a minimum Stop plus five (5) minutes. A penalty assessed prior to or during the Race must be served within the final thirty (30) minutes of the Race, regardless of the time when the infraction was discovered and/or the penalty communicated. Penalties assessed after the Race are added to the Car's finishing time for the Race and may include a lap count penalty.
This rule is in place to guard against any sandbagging that would lead to tweak the Balance of Performance process in a team or manufacturer's favor.
Thus, all five Lamborghini entries were given a post-race time penalty that equals the time needed to serve a stop and hold penalty during the race plus five additional minutes. Consequently, Konrad Racing's No. 28 car—the car that might have won the class had it not run out of gas—was demoted from a fifth place finish to tenth, and O'Gara Motorsports' No. 11 entry dropped from tenth place to eleventh.

Additionally, Lamborghini was given a $25,000 fine and will lose all of their manufacturer's championship points for the WeatherTech Sports Car Championship and North American Endurance Cup, of which the Rolex 24 at Daytona is a part.

While IMSA did not explain what they found that prompted the crackdown in their press release on the penalty, Racer reports that an air restrictor that had been previously used for the V10 in the Audi R8 LMS and R8 LMS GT3 may have been in use by the Lambo teams. After the 2014 season, IMSA noticed an increase in the Audis' power and torque outputs from using different shaped restrictors.

Audi agreed to discontinue the use of that advantageous restrictor in 2015, but multiple sources told Racer that fellow Volkswagen Group brand Lamborghini had used the restrictor on its V10 Huracáns at this year's Rolex 24.

Either way, we'll likely see these GTD-class Lamborghinis brought down a peg at Sebring—a highly monitored "we're on to your shenanigans" peg.


Photo credits: IMSA


---
Contact the author at stef.schrader@jalopnik.com.