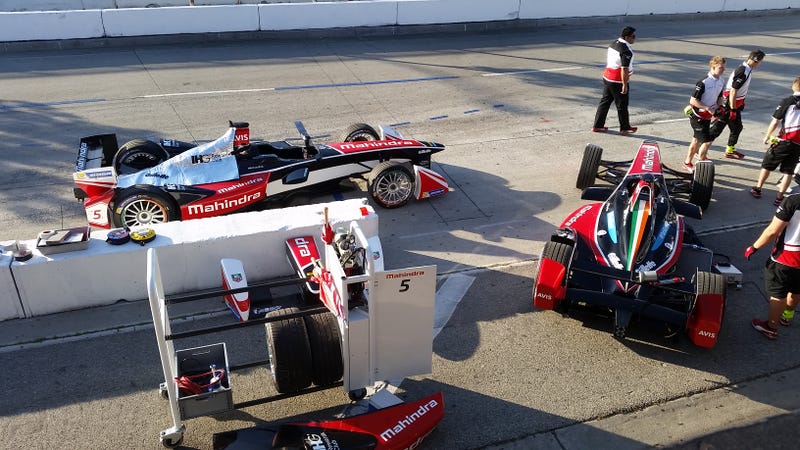 Formula E's new car for its fifth season, the Gen2, was released in January of this year and earned a pretty favorable reaction all across the board. Now, instead of just bodywork, we're getting our first looks at what these cars will be able to do when they hit the track. One big change: an increase of battery capacity means that drivers are no longer going to have to leap from one car to another mid-race.
That's a huge step toward legitimizing both electric cars and Formula E as a whole.
According to Motorsport.com, ABB FIA Formula E Championship is keen to kick off its training wheels and establish itself as a motorsport series to be reckoned with, and the two biggest turning points for the 2018-2019 season will be an increase in race power—and the elimination of the musical chairs car swap mid-race.
The current cars use 200kW as their maximum power level for qualifying, with race power being reduced to 180kW so that drivers can manage their batteries. But after four seasons of practice to fine-tune the details, the battery (whose exact specs have yet to be released, but is said to have double the capacity of its current 28kWh battery) has evolved to maintain 200kW of power as its constant race speed, turning up the heat during qualifying for a max of 250kW which will push the top speed up to 174 mph.
It seems like the series is working hard to overturn the criticisms it garnered during first years: mainly, that the cars are too slow.
The previous battery could only last about half the length of a race that would run an hour at most and was a huge turn-off to people who were skeptical about the whole concept of electric racing. With the Gen2 cars looking and behaving like the open-wheel cars we already know and love, there's a good chance that FE could make hugely progressive leaps in its reputation during season 5.
A few other changes have been made by the FIA's World Motor Sport Council recently, too. In order to retain an element of strategy that will be lost with the elimination of the clumsy pit stops, they've decided to make it mandatory for each driver to use two different power levels during the race. The higher-power mode will be able to bring drivers a performance gain of one second per lap, but it's still unspecified as to how, exactly, the high-power mode is to be utilized.
Not much footage of the Gen2 car exists in action yet, but teams have been getting on track to test out the new equipment, and the results – meager as they are – have proved pretty exciting for those who are looking forward to what the new era will bring. You can check out a few seconds of Mahindra at the Monteblanco circuit test here from The Verge's Sean O'Kane:
These are pretty exciting, significant changes to a series that used to seem like a hopeful shot in the dark at best. And with manufacturers like Mercedes-Benz, Porsche, and Nissan getting ready to make their debuts, it looks like Formula E is set on carving out its permanent place in the motorsports world.