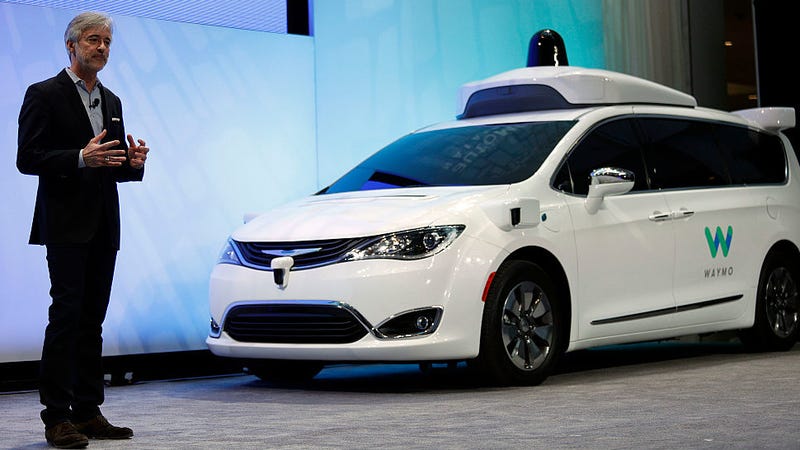 Waymo quietly dropped several of the patent claims in its explosive lawsuit against Uber last night, admitting in a new court filing that although it stands behind its allegations of trade secret theft and may pursue new patent claims later, it isn't moving forward with its current patent infringement claims against one of Uber's lidar devices.

Waymo, the autonomous driving unit that Alphabet spun out from Google, sued Uber in February for patent and trade secret infringement. Waymo says its former engineer, Anthony Levandowski, stole 14,000 confidential documents related to lidar development, and used them to create eerily similar systems for its competitor, Uber. Waymo was tipped off when a circuit board manufacturer used by both companies accidentally CC'ed a Waymo employee on an email that contained drawings of Uber's circuit boards.
A preliminary injunction unsealed yesterday mostly supported Waymo's allegations, and ordered Levandowski to stay away from Uber's lidar projects, but called Waymo's current patent claims "meritless." Waymo is now backing away from those claims, saying it will no longer assert that Uber's current lidar system, Fuji, is infringing three of the four patents at issue in the case (Waymo may still pursue claims against Fuji based on one of the patents). Instead, Waymo will focus its patent infringement claims almost entirely on one of Uber's older lidar systems, Spider.
Waymo's patent claims, which focus mainly on lens arrangement and design, have always felt like a bit of a deviation in the lawsuit. The trade secret allegations have been directed primarily at Uber's circuit boards—which, given the CC fail, seem to be Waymo's strongest claims. The judge in the case, William Alsup, acknowledged the strength of Waymo's trade secret allegations, particularly related to its circuit boards, in the preliminary injunction. "The bottom line is the evidence indicates that Uber hired Levandowski even though it knew or should have known that he possessed over 14,000 confidential Waymo files likely containing Waymo's intellectual property; that at least some information from those files, if not the files themselves, has seeped into Uber's own lidar development efforts," Alsup wrote.
Unsurprisingly, Uber is spinning Waymo's decision to move on from some of the patent claims as a win. Uber has spent most of the case looking like it recklessly ripped of a competitor and had enough tech-boy swagger to think it would actually get away with it, so having one of its claims vindicated gives Uber the chance to not look like the bad guy for once.
"Yesterday we said that we feel confident that we will show our technology was built independently from the ground up. And just today, Waymo helped us illustrate that by narrowing their patent claims," an Uber spokesperson said in an email to Gizmodo.
Waymo, meanwhile, says that Uber is pouncing on the patent claims to distract from Waymo's win in the preliminary injunction. "Uber's mischaracterization of our claims is another desperate bid to distract people from the bottom line: that Uber has Waymo's intellectual property, and that this stolen material has found its way into their work. We stand by our strong evidence showing Uber's designs both misappropriate our trade secrets and infringe on Waymo patents," a Waymo spokesperson said in an email to Gizmodo.
Uber's been claiming all along that its lidar system, nicknamed Fuji, is a multi-lens system, and therefore doesn't copy Waymo's single-lens Grizzly Bear 3. (Levandowski has a habit of naming his lidar systems after mountains.) But Waymo's claims about Fuji's lens setup have been more scattered. Gregory Kintz, a physicist hired by Waymo to provide expert analysis of Fuji and Grizzly Bear, claimed early in the case that Fuji definitely copied two of Waymo's patents. But after actually going to see Uber's system in person, he changed his mind and said Fuji wasn't infringing the patents after all.
"Waymo's patent theories are too weak to support any provisional relief," Judge William Alsup wrote in the injunction. Kintz, he added, was "flat-out wrong."
The decision to drop some of its patent claims against Fuji shows Waymo's patent claims have shifted primarily to Spider. Uber had previously asked the judge to dismiss Waymo's patent infringement claims, but backed off when the judge created a new rule limiting the flood of filings from both sides. Due to the legal quirks of the case, Waymo had to respond—which it did by saying it'll drop most of its patent claims against Fuji.
"Waymo will not be accusing Fuji on this record of infringing the single lens patents," Waymo's attorney Charles Verhoeven wrote in last night's filing.
Here's the full filing: