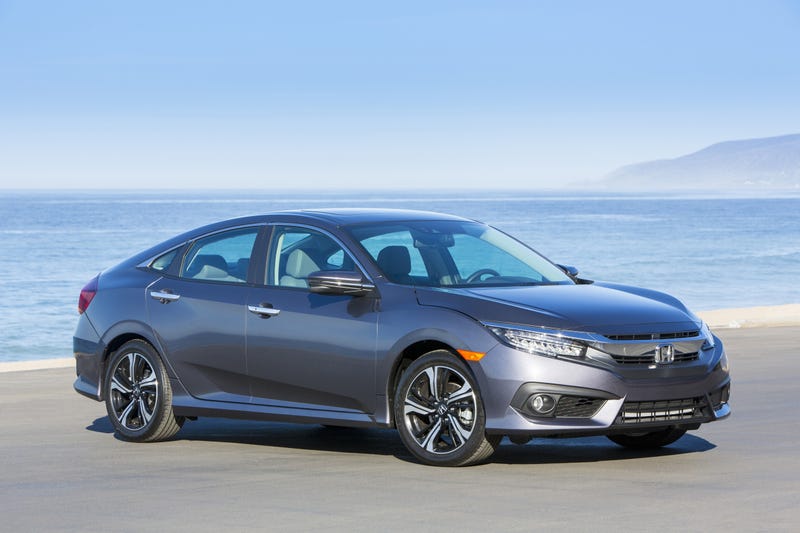 Recalling just a handful of cars more than BMW did for risk of fire earlier in the week, about 350,000 Honda Civics are on the recall list for problems with the car's electric parking brake. So, if you see a 2016 Civic rolling down a hill toward you, please to not assume that someone is controlling it.
The recall applies to both Civic coupes and sedans from the 2016 model year, and a statement by Honda says there have been no crashes or injuries reported relating to the issue. The manufacturer became aware of the problem through warranty claims about illumination of the brake-warning light, and Honda says the brake will be fixed via a free software update to the affected vehicles.
According to the recall statement, the glitch in the brake system only happens in certain situations:
The software for the Vehicle Stability Assist Electronic Control Unit may prevent application of the EPB when it is applied immediately after turning the vehicle ignition off. (This condition will not occur if the EPB is applied before turning off the vehicle ignition.) If the EPB cannot be applied, the "BRAKE" warning indicator in the instrument panel will blink for 15 seconds to alert the driver. Additionally, if the EPB does not properly set and a parking gear is not selected by the driver, the vehicle may roll away, increasing the risk of a crash.
Honda's recall announcement came on Oct. 13, right around the time when Toyota recalled 340,000 Prius models for the potential to roll away due to the potential for problems with the cable-controlled foot brake.
The statement says owners will get mailed notifications of the recall beginning in early November, and that Honda "encourage[s] each owner of an affected vehicle to take it to an authorized dealer for repair as soon as they receive notification." Until then, owners, you may just want to take Honda's advice and apply the brake before cutting off the vehicle.