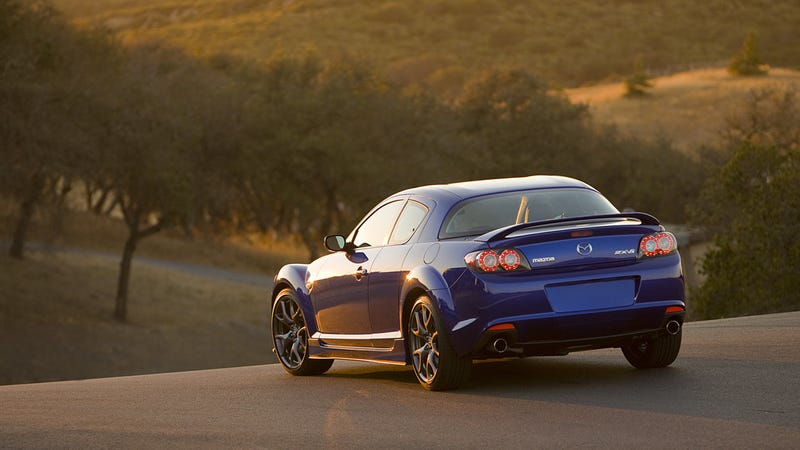 Don't buy a Mazda RX-8, but if you're going to anyway, now is probably the best time to do so.

Have you looked up Mazda RX-8 listings lately? The consensus seems to be that running, decently-maintained examples are going for about $4,000—that's for a genuinely fun sports car with a rotary engine, optional 6-speed manual transmission, and some pretty decent street cred with a fellowship of stressed, but welcoming, RX-8 owners.
Take, for example, a few of these listings; there's a red 2004 RX-8 with 17-inch wheels, a manual transmission, good looking photos and evidence that its owner generally cared about it, all for the asking price of $4,500. Here's another 2004 silver RX-8 with just 60,000 miles, a manual, and plenty of photo-evidence that it's been decently cared for, for $3,950.
If you've always wanted an RX-8, you should probably go ahead and bite the bullet and find yourself one in good condition before the prime examples start edging their way back up in market price.
Not that you should consider buying an RX-8 in the first place. Most of the examples you'll find for sale are older models, which are more prone to catastrophic engine issues. If you can find a later model year, you should probably go for it if you really want to—but you're still going to be running into reliability issue after reliability issue.
I'm not telling you what to do, and I'm not trying to convince you that near-$4,000 still isn't a crack pipe value for a Mazda RX-8. I'm just saying, as reader Rich reached out to us about earlier, that if you're feeling lucky and you've got lust for a Mazda RX-8, the "good" ones probably aren't going to get any cheaper.
Best of luck. Just, you know, really think about it.