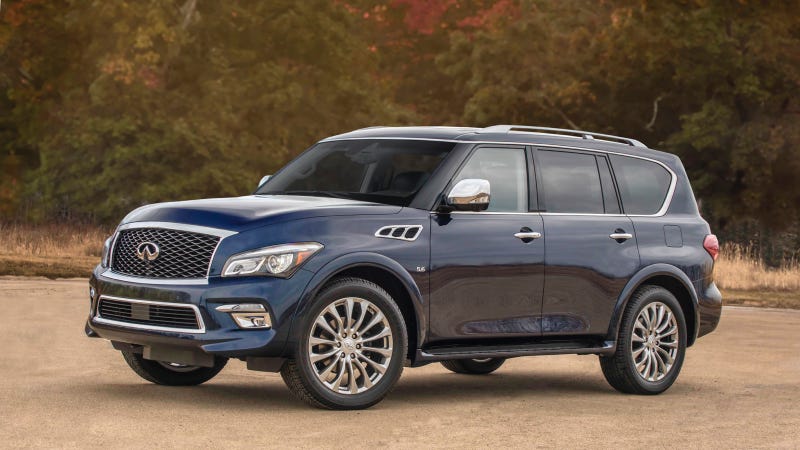 If you're shopping for a luxury SUV, you might have already laughed the Infiniti QX80 off your list because look at it. But behind that cyborg-beastface is a capable and seriously comfortable 4×4. If that got your attention, here's everything you need to know about it in our Ultimate Buyer's Guide.
The QX80 is an Americanized and luxuriated rendition of the Nissan Patrol. It's not a lifted Pathfinder or a stretched Xterra; the Patrol/QX80 is its own animal with a classic truck-style body-on-frame build, a V8, and a true low-range 4WD system.
There aren't a lot of options; Infiniti basically lets you choose between a competitively priced basic-spec luxury SUV and a very expensive Limited trim. The basic vehicle is nice, the Limited is downright sublime inside despite being a little overdecorated.
What It's Like To Drive
Nissan's prolific 5.6 liter V8 is the only engine option, set to sneeze out 400 horsepower. Some have said that's not enough to push almost three tons of SUV down the road, but they obviously haven't driven a QX80.
Infiniti's mighty 4×4 doesn't suck your guts out the back window but it's got more than enough juice to aggressively merge and keep charging right on past whoever's hogging the fast lane.
Give yourself a little time to reel it back in though; stopping power is adequate but not exceptional. You can only fight physics so far.
The same could be said for body roll, though looking at one of these new-school conestoga wagons you'd think a good breeze would be enough to flip it over. Not the case. The vehicle stays surprisingly well planted given its proportions as long as it's driven within realistic limits.
All those aspects of the QX80 experience are ancillary of course, but the materials inside would be nice enough to distract you from even a pretty mediocre driving experience.
Once you accept the strange oblong-roundness of everything you come to love the softness of the seat and steering wheel. Oh that wheel; to grip it is an indulgence of luxury unparalleled. An optimal girth, just the right response to squeezing and a well-balanced weight to the front wheels that pull the car.
What's New About The 2016 Infiniti QX80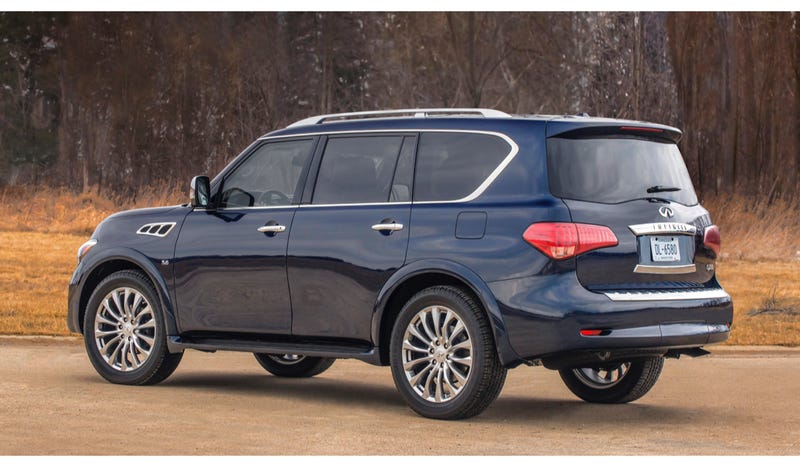 The second generation Infiniti QX debuted as a QX56 at the 2010 New York Auto Show. All-new for 2011, the Big-Bertha strayed from its Nissan Armada-based roots and was built on an all-new platform with a new frame and new body, which promised more stiffness and better NVH.
The "full-size performance luxury SUV" ditched the 320 horsepower 5.6-liter V8 for a more advanced 5.6-liter mill with direct injection and variable valve lift making 400 horsepower. That engine came bolted to a new seven-speed automatic versus the last generation's five-speed.
New features like Hydraulic Body Motion Control promised better handling, a new interior promised more luxury and new exterior styling promised more boldness.
The second model year for the second-gen QX added options like Blind Spot Intervention, Bose 15-speaker surround sound, heated second row seats, remote tip-up second row seats and a few other options. In 2013, Advanced Moving Object Detection was added to the standard Around View monitor, auto-dimming mirrors became standard and the remote for the Theater Package was updated.
In 2014, the QX56 became the QX80, and Advanced Backup Collision Intervention was added to the option sheet. In 2015, Infiniti revised the front fascia, grille, LED headlights and fog lights. New interior trim became available, and driver-assist features like Forward Emergency Braking, Predictive Forward Collision Warning and High Beam Assist became available.
With the exception of a new Signature addition trim, of which only 1,000 will be produced, 2016 saw few changes to the QX80.
Powertrain Breakdown
Infiniti offers only one engine on their humongous luxury SUV: a 5.6-liter direct-injected V8 with variable valve lift spewing out 400 horsepower and 413 lb-ft of torque.
That may sound like a lot of power, but the QX80 weighs over 5,600 pounds, so it could use every ounce of those 400 ponies.
That horsepower is managed through a seven-speed automatic transmission and, on four wheel drive models, a two-speed transfer case.
2016 Infiniti QX80 Engine Options

Engine
Max Horsepower (hp)
Max Torque (lb-ft)
5.6-liter V8
400 @ 4800 rpm
413 @ 4000 rpm
Fuel Economy Breakdown
The QX80 can be optioned to weigh nearly three tons, so it's no surprise that it doesn't exactly sip fuel. Scoring only 20 MPG highway in two-wheel drive form, the Infiniti is a heavier drinker than competition from Lincoln and Cadillac (they both score 22 MPG highway).
Still, people who drop 70 grand on a giant luxury SUV could probably stand to spend a few more bucks at the fuel pump.
2016 Infiniti QX80 Fuel Economy Ratings (City/Highway/Combined)

_
5.6-liter V8
Seven-speed automatic

14/20/16 (2wd)

13/19/15 (4wd)
Trim Level Breakdown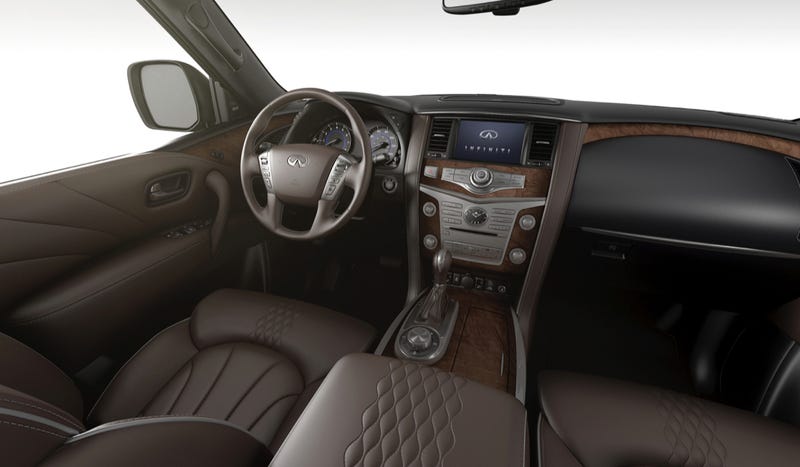 The Infiniti QX80 comes in three main trims: QX80, QX80 Signature Edition and QX80 Limited. The base QX80 and QX80 signature Edition trims can be had in either rear or all-wheel drive, while the QX80 Limited sends power to all four wheels as standard. All trims double wishbone suspensions and 13.78-inch vented rotors at all corners as well as hydraulic power steering.
QX80: Starts at $66,350. Notable standard features: 5.6-liter V8, seven-speed automatic transmission, leather seats, Class IV tow hitch, Infiniti Intelligent Key with remote start, Bose 13-speaker Premium Audio, Bluetooth compatibility, USB port, three-zone climate control, moonroof, navigation, Around View Monitor with Moving Object Detection and Front and Rear sonar Systems, 10-way power driver's seat, eight-way power passenger seat, heated front seats, eight-inch touchscreen infotainment display, auto-dimming interior mirror, automatic on/off LED headlights with high beam assist wiper interlock, LED turn signals, LED fog lights, LED brake lights, rain-sensing wipers, front skid plate. Notable options: all-wheel drive ($3,100); Driver Assistance Package: Backup Collision Intervention, Blind Spot Warning, Intelligent Cruise Control, Distance Control Assist, Forward Emergency Braking and Predictive Forward Collision Warning ($2,500); Theater Package: dual seven-inch monitors for multimedia playback, wireless headphones, wireless remote control, heated second-row seats, remote tip-up second row seats ($2,400); Split Bench Seat Package: split-folding rear bench to bring seating capacity to eight ($0); Deluxe Technology Package: Hydraulic Body Motion Control, climate-controlled front seats, Bose 15-speaker surround sound, semi-aniline leather-appointed seating, unique interior trim, unique interior lighting, Advanced Climate Control System with auto recirculation, air purifier and Grape Polyphenol Filter, Blind Spot Intervention Systems, Lane Departure Warning and Lane Departure Prevention, Headlight washers, Front Pre-Crash seat belts, Adaptive Front lighting System with auto-leveling headlights ($5,500); 22-inch alloy wheels with performance tires ($2,800).
QX80 Signature Edition: Starts at $64,250. Notable standard features over QX80: saddle tan high-contrast leather appointed interior, Driver's Assistance Package, Split Bench Seat Package, Chrome side mirror covers, chrome body side moldings. No notable options: all-wheel drive ($3,100).
QX80 Limited: Starts at $88,850. Notable standard features over QX80: all-wheel drive, all optional packages available for QX80, truffle brown leather with unique seat quilting, unique exterior with Dark Chrome trim, Open Pore Matte Finish Ash Wood. No notable options.
Which One We'd Buy
The QX80's value proposition is an interesting one. Since you're almost definitely going to buy the four-wheel driving version say it starts at $70,000. The almost $20,000 leap to the limited seems downright absurd. You could buy a fantastic boat to pull with your base-model QX80 for that kind of cash.
And yet when compared the most likely competitor in the $90,000 SUV strata, the Cadillac Escalade, the QX80 Limited holds up extremely well on the only category that matters here; comfort.
But back again; if you're the type to justify a $20,000 price hike for a little more luxury what are you doing buying an Infiniti?
Get the base, buy the boat, and beep at your neighbor polishing his Escalade.
[Build Your Own Infiniti QX80]
Important Facts At A Glance:
MSRP: $63,250-$88,850 Top Speed: 130 MPH (estimated)
Acceleration: ~7s to 60 (estimated) MPG: 14/20/16
Engines: 5.6-liter V8
Max Horsepower/Torque: 400 hp/413 lb-ft
Max Advertised Towing Capacity: 8,500 pounds
Curb Weight: 5,644-5,888 pounds IIHS Rating:Not Fully Tested
Transmissions: Seven-speed automatic
Drivetrain Layout: Front engine, RWD/AWD
Photo credit: Infiniti