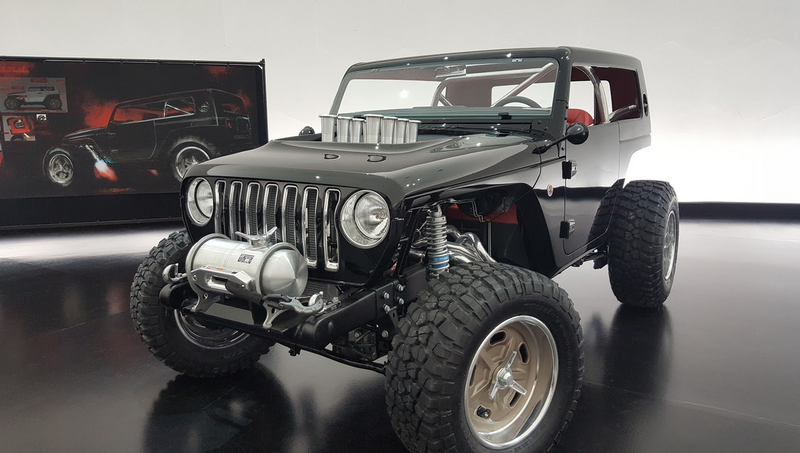 Earlier today, I left a giant pool of drool in the design dome of Chrysler's Tech Center as I gazed at the company's new Easter Jeep Safari concept cars. Of all the pretty sheetmetal, though, one vehicle made me truly weak at the knees: a hot-rodded Wrangler called Quicksand.

OK, I'll admit that the 1993 Grand Grand Cherokee ZJ-based Jeep Grand One concept made me a bit wobbly, too. But it wasn't nearly as "out there" as Quicksand, which looks like it was drawn up by a ten year-old kid on a sugar rush—and I mean that in the best way possible. Just look at the fender-well headers on this thing:
More importantly, listen two these two trumpets play a song that nearly burst my eardrums and sent blood trickling down my neck (again, I mean this in the best way possible):
As you can hear in the clip above, the thing's got two exhaust systems that can be actuated via some valves to divert gases either out of the fender well headers or through a muffler and out the back of the Jeep. It's pretty fancy stuff.
That roaring 392 Hemi engine, outfitted with eight velocity stacks, sends power to a pair of Dynatrack axles suspended by adjustable coilovers, and flanked 37-inch tires in the back and 32s in the front. Yes, the front tires have a five-inch smaller diameter than the rears, adding to the whole "hot rod" vibe.
More importantly, look at the body on this thing. The wheelbase has been stretched, the front and rear overhangs have been hacked off, the B-pillar is gone, the fenders have been sliced open, and the windshield and roof have been chopped down.
In the back, there's what looks like a drag cars parachute, except it's filled with a tow strap, while on the front, there's a moon tank that conceals a Warn winch.
The inside is red and black with aluminum accents, and there's a chrome roll bar in the back so you don't die when you roll over while dune-riding.
To be honest, it's hard to make a Jeep Wrangler JK interesting; all the aftermarket outfitters have been going apeshit with the platform ever since it launched for 2007. Seriously, a Wrangler with 40-inch tires, a Hemi V8, a fancy Atlas transfer case, Dana 60 axles and light bars out the wazoo barely makes me even turn my head these days.
But this concept, the Quicksand—I'd break my neck to get a glimpse of this thing.