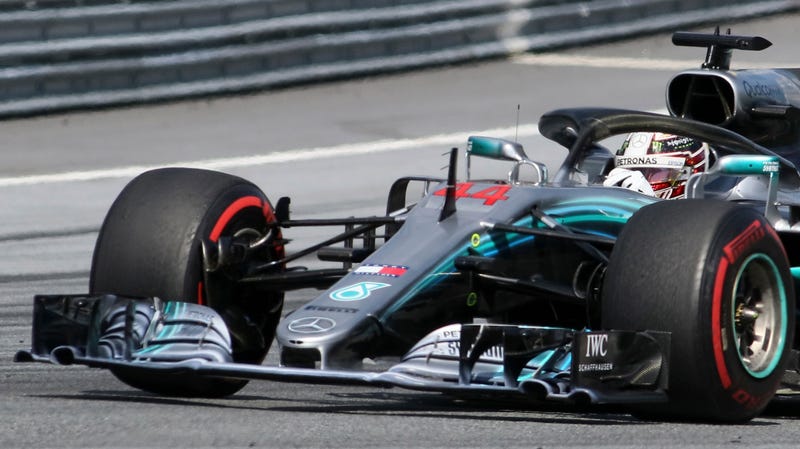 The longest points-paying streak in Formula One history has ended with Lewis Hamilton's retirement from Sunday's Austrian Grand Prix with engine troubles. This weekend marks the first time that Lewis has not been in a top-ten points-paying finishing position since his retirement from the Malaysian Grand Prix in 2016. This retirement, combined with Sebastian Vettel's 3rd place finish, revokes Hamilton's championship lead by a single point.
The two Mercedes teammates Hamilton and Valtteri Bottas locked out the front row of the grid in qualifying with Bottas just a bit ahead of Lewis. In the scrum at the start of the race, Bottas lost three positions initially, but quickly recovered to second while Lewis pipped into the lead of the race. Max Verstappen negotiated his way into third just behind.
After a few laps, Hamilton had already pulled clear into a dominating 2.6-second lead over his teammate. Mercedes were on the radio with their star driver to give him motivation to pull out an even greater lead. Mere seconds before his gearbox lost hydraulic pressure, Bottas' engineer was on the radio to tell him to increase pace. Just over 15 minutes into the race, the pole sitting car was out.
With the retirement of his teammate, Hamilton then enjoyed a 7.7-second gap back to Verstappen in second, and Kimi Raikkonen sat another five seconds further adrift. A virtual safety car is called to retrieve Bottas' stranded Mercedes, and Hamilton stays out while all rivals behind pit for tires.
When Hamilton finally did pit, he returned to the lineup in fourth, as everyone else had already stopped. His plan here is to attack on fresher tires. Even in fourth, he is only 7 seconds back from Verstappen's lead. After setting a couple of personal best laps and closing to within a few tenths of Raikkonen in third, Hamilton radios in with a report, "I feel like I'm running out of power." Within the space of a lap he's lost 1.5 seconds to Kimi. Another radio call: "I don't get it guys," says Hamilton. "I'm not going to be able to pass these guys. We've just thrown away a win."
Struggling and pushing the tires, Hamilton was forced to pit again after losing a spot to Sebastian Vettel. Daniel Ricciardo is perfectly set up to pass Hamilton as he exits pit lane. Shortly after Ricciardo lost his ability to sync gear ratios and slowly pulled into the grass, allowing Hamilton back into fourth.
Hamilton then found some extra speed and set the fastest lap of the race. Just five minutes later, his engine exploded and he pulled off with a dejected "I've lost power."
Verstappen went on to win the race at the Red Bull Ring uncontested in his Red Bull Racing car ahead of the Ferrari pair of Raikkonen and Vettel. Shocking everyone in attendance, the Haas F1 Team drivers Romain Grosjean and Kevin Magnussen paired up for a run to fourth and fifth as the checkered flag fell.