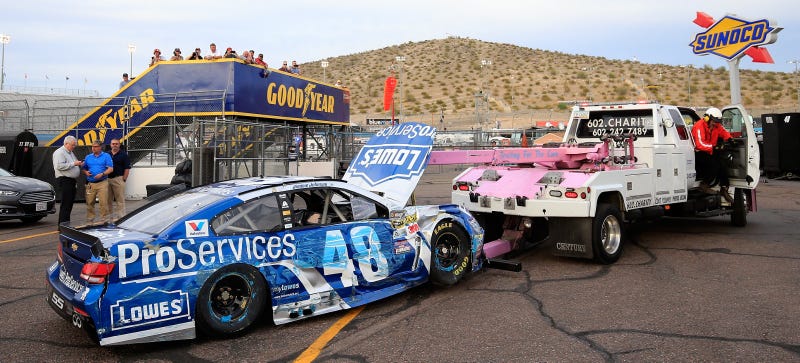 NASCAR Sprint Cup racer Jimmie Johnson will be forced to race in the Good Sam 500 with a back-up car this weekend after eating the wall during the third and last round of qualifying. Johnson was shaken up by the hard hit, but fortunately, he was able to walk away with no injuries.

Johnson was on his second lap in the third round of qualifying when his No. 48 Hendrick Motorsports car plowed straight into the Turn 2 wall at Phoenix International Raceway. The Associated Press reports that Johnson was able to climb out of the car under his own power once it came to a stop on the grass. He was later evaluated and released from the infield care center, per a NASCAR post-qualifying report.

Prior to the crash, Johnson posted the third fastest speed of the qualifying session. Johnson gasped through some brief words to his team following in a radio clip captured by Fox Sports, which the commentators followed with a comprehensive explanation of the safety gear that saved Johnson's bacon:
Johnson later admitted on Twitter that a loose steering wheel was to blame for the incident:

While it's always embarrassing to be involved in an avoidable crash, it's a real testament to modern safety tech that he'll be able to race on Sunday.

After Johnson's crash was cleaned up, Kyle Busch won his 18th-career pole position with a 26.014-second lap time at a speed of 138.387 mph. Johnson was ultimately classified in fifth place for the qualifying session, but will be forced to start the race from the back of the 39-car field due to the backup car.
---
Contact the author at stef.schrader@jalopnik.com.