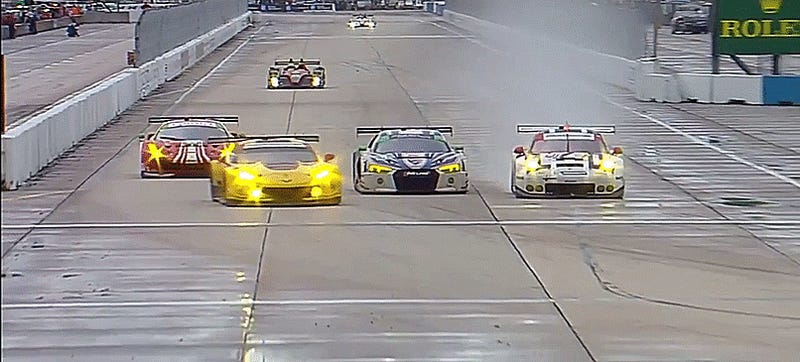 The No. 3 Corvette of Jan Magnussen and No. 911 Porsche 911 of Kévin Estre were battling for the GTLM class lead at Sebring when they took each other out. in the eighth hour of the race. The 911 went nose-forward into the tire wall just past the pit straight, but Magnussen was able to fire the 'Vette back up and limp it away.

The two cars were neck and neck for the GTLM-class lead as they came down the pit straight, only the slower No. 9 GTD-class Stevenson Audi was in their way. The two GTLM cars went on both sides of the Audi, with the Corvette on the drier side and the 911 on the wet one.

The two cars came together on the other side of the No. 9 car, spun out of control and into the tire walls. A full-course yellow was immediately called so that recovery personnel could fetch the broken vehicles. Both race cars hit the tire wall hard, moving the concrete barrier behind the tires. Estre's car had to be hauled away on a flatbed with extensive damage to the front.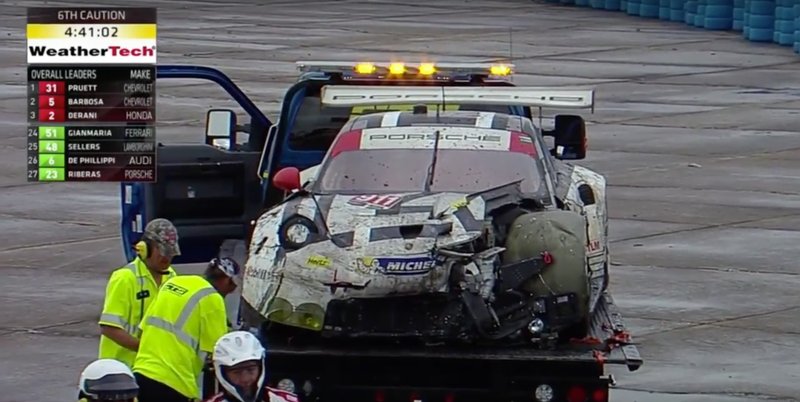 Magnussen, however, promptly fired his Corvette back up and drove out of the tire wall. He managed to limp the Corvette for several turns, despite the fact that its rear suspension seemed to be broken on impact. After a few turns, however, the busted rear suspension proved to be a bit much to handle, so Magnussen wisely pulled the Corvette off the track and waited to be fetched by a recovery vehicle.

I'd imagine I'd be a bit annoyed if I crashed out of the battle for the lead at a legendary race like Sebring. Perhaps it's good that Magnussen sought a bit of space between himself and Estre.
Regardless, it's amazing that the Corvette could just fire back up after that hard of a hit. Corvettes are truly the tanks of the sportscar world.

Many fans have placed the blame on the No. 911 car for expecting to be able to brake on slicks on the other side of the Audi, however, this opinion varies wildly between Corvette and 911 fans. Others feel as if the Corvette should have seen the 911 and backed off to give it space. Regardless, IMSA took no action against either driver for the incident.

Fortunately, both drivers were able to get out of their cars under their own power, and IMSA reports that both have been checked and released from the on-site medical center.

UPDATE [7:01 p.m.]: The Corvette team is about as beastly as the car. No. 3 has already been repaired and is being sent back out on track: