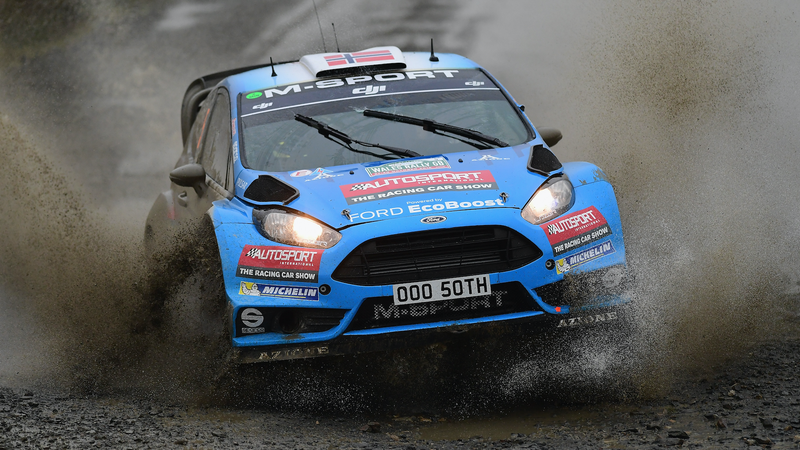 While working on his Ford Fiesta RS during the FIA World Rally Championship's Wales Rally GB on Friday, series co-driver Ola Floene believes he was bitten by a snake on the left hand. He didn't realize at the time that he'd been bitten, and continued to compete through Saturday with a giant, swollen hand.

According to the WRC website, Floene, 47, and driver Mads Ostberg stopped on Friday to work on the car. In a hurry to get it done, they needed some stones to keep the car from rolling away. Here's what Floene told the WRC web team:
"I saw a stone in a dry wall so I put my hand in and was fighting to get it out. I didn't feel anything.

"After the stage I said to Mads that things didn't feel right. I was getting cramp in my thumb and it was strange. It was starting to get worse and worse. When we got to Chester (the venue for one of the rally's promotional events on Friday night) I wasn't feeling well at all and my hand was so big."
Being a three-day event, Floene still had Saturday and Sunday to compete in after he realized he might have been bitten. Floene thought the swelling would go down overnight before Saturday's rally stages began, but it definitely did not. Here's what Ostberg had to say, from the WRC website:
"Today, he (Ole) was strange from the morning. He didn't behave normally. Even in the stages he struggled. He just didn't have any rhythm as he was reading the pace notes which isn't normal," Østberg said.
Ostberg said Floene got worse over the next stage, and then admitted he wasn't well. Ostberg saw two bite marks on Floene's had when checking, and Floene took anti-inflammatory tablets from a doctor after being checked out Saturday morning.
According to WRC, the symptoms subsided with the anti-inflammatories and Floene finished the day. The two were seventh overall after Saturday's stages, four minutes behind leaders and already-crowned 2016 champions Sébastien Ogier and Julien Ingrassia.
Even for the most stubborn of competitors, co-driving for two days with a snake bite is hardcore. Next time work is hard, just remember that work is probably harder with a snake bite.