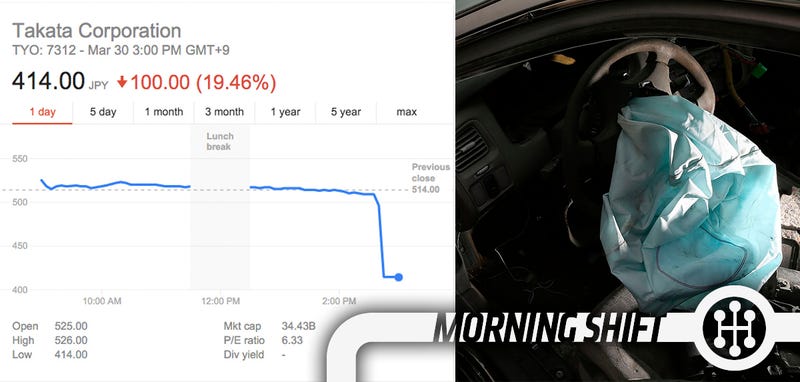 Good Morning! Welcome to The Morning Shift, your roundup of the auto news you crave, all in one place every weekday morning. Here are the important stories you need to know.
1st Gear: Takatapocalypse
How expensive could the full recall costs get for Takata, troubled maker of potentially lethal airbags? Really, really expensive, reports Bloomberg; expensive enough to send the company's stock tumbling today.
Takata Corp., the supplier behind the auto industry's biggest recall ever, estimated that a comprehensive callback of its airbag inflators would total about 2.7 trillion yen ($24 billion), according to a person familiar with the matter. The shares plunged to a record low.

The worst-case recall scenario would involve 287.5 million airbag inflators, said the person, who asked not to be identified because the company's deliberations are private. Takata and the automakers still have to determine how the costs are shared, the person said. A representative for Tokyo-based Takata declined to comment.
And here's how it affected the stock prices of the very automakers Takata may seek to raise capital from:
Takata plunged by about 20 percent to 414 yen, hitting the lower daily limit in Tokyo trading and cutting the company's market value to $307 million. Honda Motor Co., a Takata shareholder and its biggest customer, fell 3.6 percent, while Nissan Motor Co. declined 3.7 percent and Toyota Motor Corp. dropped 2.5 percent.
Ouch.
2nd Gear: Our Headlights Suck
Besides the fact that U.S. lighting regulations date back to when war bonds were a thing (okay, not that bad, but close), it turns out most of our headlights are pretty inadequate at their jobs—even on new cars. That's according to a new IIHS study reported on by Reuters:
Headlights on a third of U.S. midsize car models do a poor job, and only one, the Toyota Prius v, performed well enough with an optional upgrade to earn a good rating from the Insurance Institute for Highway Safety in results released on Wednesday.

While they currently meet U.S. government standards, better headlights could reduce U.S. accident deaths and improve safety, the Arlington, Virginia-based group said.

In its first ratings of vehicle headlights, the insurance group tested midsize cars to see how well they illuminate the road and whether they create excessive glare for oncoming vehicles. The group's ratings carry weight with consumers so automakers work to win high marks in its tests.
3rd Gear: VW Shareholders Probably Screwed
In more shocking news, now is a crappy time to be a Volkswagen investor. Via Automotive News:
Volkswagen Group may suspend its 2015 dividend payout as the costs of its diesel-emissions scandal rise higher, the German news agency DPA reported.

"There is no sign that shareholders might even be able to hope for a single cent," the agency reported, citing a VW board member as its source.

The scandal could cost VW to 30 billion euros ($34 billion) in vehicle recalls, legal action and fines around the world, according to analysts estimates. VW has admitted that up to 11 million VW, Audi, Skoda and Seat models sold globally may have been fitted with software to cheat official pollution tests.
4th Gear: GM Thinks It Will Be Fine Cutting Down On Fleet Sales
Long the king of pumping cars into rental and other fleet sales at little profit when retail sales were down, General Motors says it's trying to cut down on that these days. And it should be fine, market share-wise, with less fleet sales. Via Reuters:
General Motors Co (GM.N) plans to cut sales to U.S. rental car fleets by 80,000 to 90,000 vehicles this year without surrendering significant market share, the head of the automaker's North American operations told Reuters on Tuesday.

GM sold about 449,000 vehicles to U.S. rental car companies in 2014. It cut rental fleet sales to about 400,000 vehicles in 2015 and this year expects to sell about 310,000 to 320,000 vehicles to the daily rental market, GM North America President Alan Batey said in an interview.

Fleet sales have low profit margins and can depress new car values. GM had not previously discussed in detail the scope of its cutback on sales to rental companies.
5th Gear: Spy Car Act
Here's something we're keeping an eye on and you should too: a bill that could implement privacy standards on the electronics of your vehicle. The goal is to prevent cyberattacks, which aren't really a thing yet but many people fear could be eventually. From The Detroit Free Press:
If enacted into law, the Spy Car Act would require the National Highway Traffic Safety Administration (NHTSA) and the Federal Trade Commission (FTC) to develop industry wide standards to prevent vehicle control systems from being hacked.

In addition, the bill would require important privacy standards to be developed to protect the privacy of the data collected by our vehicles. Finally, the bill, if enacted into law, would require cars to have a new cyber dashboard display that would be affixed to the windows of all new cars that would indicate how well the particular type and brand of car protects security and privacy beyond the minimum standards set by law.

[…] Meanwhile, the Department of Transportation and 17 automakers have agreed to share information about cyberattacks on their vehicles. The auto industry has already set up the Information Sharing and Analysis Center (ISAC) as a clearinghouse for sharing such information. In addition, the auto industry has also agreed to develop best practices.

However, all of these steps by the government and the automobile industry will take time. So what should we, as automobile owners be doing now to make our rides safer and our information more secure.
I'll say it again for the hundredth time: a 1980s Mercedes in decent shape looks more and more appealing to me every day.

Reverse: Get Your Shit Together, Obama Says
http://www.history.com/this-day-in-hi…
Neutral: What's The Most Outdated Car Regulation In America?
I vote lighting myself, or the stupid import ban, but there's many others.