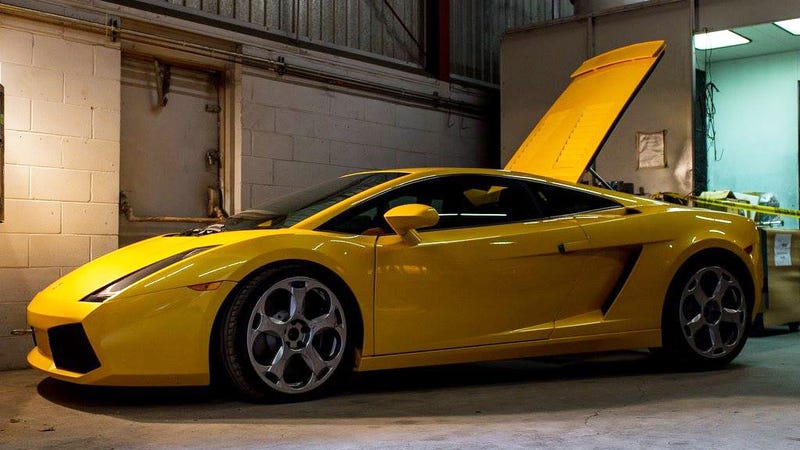 I don't know about you, but I spend a good chunk of my free time daydreaming about cars with rotary swaps. All kinds of cars: Camrys, M3s, Corvettes. And then these guys came along with the idea for a quad-rotor Lamborghini Gallardo, which essentially sounds like automotive perfection to me.
Derwin Performance is located in Quebec and specializes in building and remanufacturing rotary engines for individuals, racers and Mazda dealers in Canada. Their newest project is to put a quad-rotor in the Lamborghini Gallardo you see above.
I reached out to Derwin to find out some more about this project. They wrote back:

Well, dreams are goals right? First, I own three rotaries: a mint 1987 [Mazda RX-7] T2, a 1994 FD show car [with a] sequential turbo that boosts 21 lbs raceport with all the goodies you can think about, a 2004 RX8, bought new [at] 14,000 km and is getting a three-rotor after the Lambo.

As for the Lambo… an exotic car needs an exotic engine. The V10 in a standard piston engine available in [the] Audi R8—not that exotic by my standards. Neither is a two- or three-rotor. Four-rotor… now you're talking exotic. So this engine is fit for the Lambo now. Four-rotor is exotic and is kind of a revenge to the haters of the rotary. A friend of mine owns an exhaust system shop, [we'll] do the tone thing to make it sound right. Not raspy but throaty. [We] will have to work on this to make it stand out.
Derwin said that the racer's engine has a semi-peripheral intake system, which should give the car at least 600 horsepower. Derwin outsources the eccentric shafts in New Zealand, which is basically the rotary nirvana of the world, but the rest of the engine will be custom-built in the house.
They just started on the project and it's ongoing, so we'll see what comes next.