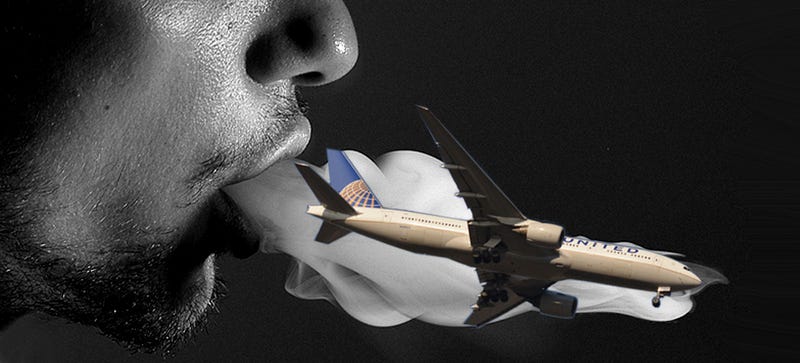 Apparently there was still some confusion over whether or not you were allowed to use electronic cigarettes, or "vape," on a commercial flight, so the U.S. Department Of Transportation is making it clear as a chemtrail-free sky; the answer is "no."
Smoking has been banned from all scheduled domestic flights in the U.S. since April 2000, as part of The Wendell H. Ford Aviation Investment and Reform Act for the 21st Century. While the DOT assumed you'd figure that would also apply to e-cigs, apparently too many selfish dickweeds have been trying to loophole it since vaping is advertised as different from "traditional" smoking.
"The Department views its current regulatory smoking ban to be sufficiently broad to include the use of electronic cigarettes; however, the prior rule did not explicitly define 'smoking.' The Department took this action to eliminate any confusion over whether its ban includes electronic cigarettes," as explained in a press briefing handed down directly from the Department Of Transportation.

The Department makes the case that aerosols in the smoke emitted by e-cigs could be harmful to those in proximity of whoever's using such a device.
A much longer document reiterating that, Docket DOT-OST-2011-0044, has been posted for your reading pleasure if you're a masochist or nerd. The bottom line is pretty simple—do not do any smoking of any kind aboard an airplane you've rented a seat on.
Don't try to argue secondhand smoke from e-cigs doesn't hurt anybody. In this context, it's irrelevant. Commercial air travel sucks enough most of the time already, so keep your hands, smells and smoke to yourself to preserve what little dignity there is to be had on a jet.
Image via the author/Piper/Boby
---
Contact the author at andrew@jalopnik.com.