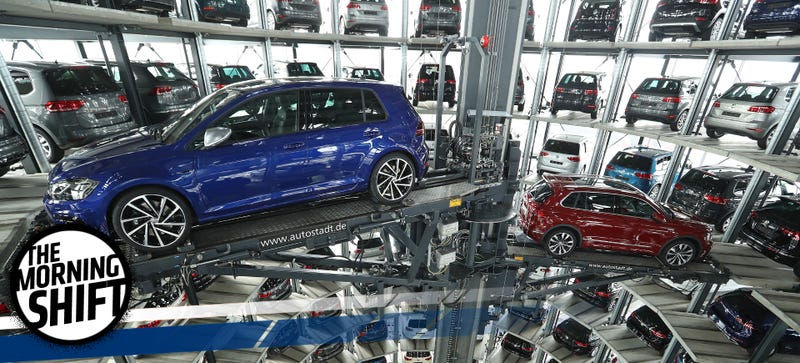 Good morning! Welcome to The Morning Shift, your roundup of the auto news you crave, all in one place every weekday morning. Here are the important stories you need to know.
1st Gear: At Least Someone At Volkswagen Is Doing Well
It's not all doom and gloom at Volkswagen! They're getting better. They're doing fine! They feel happy! They feel happy! Okay, I'll spare you a rework of that Monty Python and the Holy Grailscene, but in spite or everything, Volkswagen Financial Services posted record profits for 2016, according to Reuters.

The division, which handles customer and dealer financing as well as the group's leasing and banking business, posted an all-time high operating profit of $2.26 billion (€2.1 billion), up 10 percent from €1.9 billon in 2015. Turns out, there's still good money in making people pay more for a car over time.

2nd Gear: Those New Planned Emissions Standards Should Cost Less Than Previously Thought


Chill out on that sky-is-falling talk for just two seconds, everybody. A new study by a nonprofit group suggests that the planned tougher emissions standards for cars would cost 40 percent less to implement than previously expected using existing technology. Automotive News writes:

Technologies such as turbochargers, advanced transmissions and use of lighter weight materials — such as aluminum instead of steel — could reduce compliance costs by 34 percent to 40 percent per vehicle from 2022 through 2025, according to the report by the International Council on Clean Transportation, an independent research group.
This pokes some holes in automakers' arguments for relaxing these standards over excessive costs, as it doesn't even factor in technologies that are still yet to come. Automotive News continues:

Instead of an average cost of $875 per vehicle for incremental technology needed to meet the new standards, as compared with 2021 standards, estimated by the EPA, the ICCT's analysis of available data is for an additional cost of $551.
While the ICCT report assumes we're likely to only see an average fleet mpg of 35 mpg in 2025 instead of the planned 54.5 mpg, that's still a big bump over the 26 mpg we see today.

California is still expected to press on with implementing the rules, regardless of what happens at the national level.

3rd Gear: The Copiers Are Suing The Copied, The Circle Is Complete
Chinese automaker Chery, a brand known for sometimes egregious copies of other carmakers' designs, has filed a trademark complaint against Mercedes for the use of the EQ name for an upcoming line of fuel-efficient vehicles, reports Reuters.

Chery has an electric car called the eQ, and thus, hopes to bar Mercedes from using the EQ name in China through a complaint with the country's Trademark Office of the State Administration for Industry and Commerce.

A Chery spokesperson told Reuters:
If it entered the Chinese market, it would impact our trademark rights.

Mercedes Benz EQ and our (eQ) are extremely similar. Their product is also an electric car.
That's rich, considering the that Chery QQ was such a blatant copy of another automaker's work that it could swap doors with a Daewoo Matiz. Regardless, government initiatives aimed at curbing pollution have made China the world's largest market for electric cars, so any hang-up is a huge blow to Mercedes.

4th Gear: Toyota Gets Use Of Microsoft's Connected Vehicle Patents
Coming to a Toyota near you: the blue screen of death! Err, we hope not. Either way, an expansive intellectual property deal was made to license many of Microsoft's connected vehicle patents to Toyota, as Automotive News writes:
The software company is giving Toyota access to its suite of vehicle technologies, which includes an operating system, voice recognition, gesture control, artificial intelligence and cybersecurity tools. The agreement is not exclusive, and Microsoft said it is looking to partner with additional automakers.
It's the biggest deal to-date Microsoft has made with an automaker since the company started its intellectual property program in 2003. Toyota and Microsoft have been working together over the past year on the Toyota Connected data science center, which leverages Microsoft's cloud computing platform to cater to individual consumers' preferences and inevitably creep a few people out.

5th Gear: France Considers Selling Part Of Its Stake In Renault
France has increased its stake in automaker Renault to just under 20 percent of the company's share capital in recent years, but they're considering scaling that back, per Reuters. French financial minister Michel Sapin says that any sale would have to happen under ideal market conditions, telling Reuters:

I look at what was the price at the moment when we bought it and where the price is now, and I don't want to make French people lose money.
Renault shares are down 6 percent since the start of the year, so it looks like right now is not the time. But this is a big deal if it happens—the French stake in Renault is largely what keeps Renault and Nissan from forging deeper ties or even formally merging, which CEO Carlos Ghosn seems to want.

6th Gear: Who Wants To Go 600 MPH?


Neutral: Will Chinese companies ever get in trouble for their rip-offs of other brands?


It's been a recurring theme with Chinese automakers in the past: imitation is the sincerest form of… something, we're sure. Will Chery's IP move over the eQ name come back to bite them?