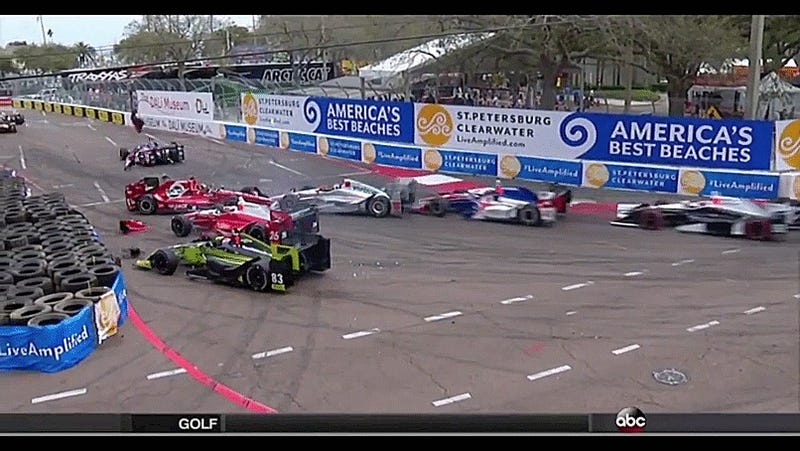 The Verizon IndyCar Series season is off to an interesting start, and it just got weirder when the season opener began. As the result of a strange wreck on the St. Petersburg streets, nearly half of the field wound up in a gridlock resembling rush-hour traffic—complete with the hand signals that go along with it.

The wreck occurred on lap 57 of the Firestone Grand Prix of St. Petersburg, as the field piled up shortly after a restart. Here's a video from the traffic jam, which is actually pretty fitting for a race on a street course:
As shown in the video footage from the wreck, the No. 26 Honda of Carlos Munoz got into the No. 15 of Graham Rahal in turn four. The contact between the two resulted in a jam that collected about two handfuls of cars, and Munoz received a penalty for avoidable contact following the incident.
As for those hand signals and directing of traffic from behind the wheel, more than one driver got a bit animated in the jam. Here's an on-board capture from Graham Rahal, which only shows a snippet of it all:
Next time you're involved in gridlock on the city streets, remember that IndyCar drivers do it too. With that reasoning, you're basically an IndyCar driver. (Don't drive at the speeds that an Indy car does on the street courses, though—that is not a good idea.)
---
Contact the author at alanis.king@jalopnik.com.