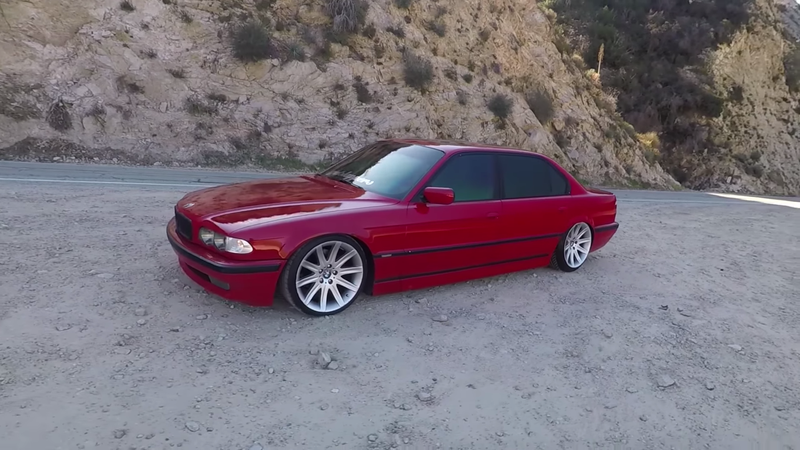 Brandon from Tucson is doing it right, and the rest of us need to make major changes to our lives. That's because apparently Brandon bought this sexy, red, luxurious, 4.4-liter V8-powered BMW 740iL for only $1,250, and proceeded to slam the hell out of it.

Sure, it had 200,000 miles on the clock, and it had a bad LCD screen and some cooling system issues, but Brandon says he can get parts for this thing dirt cheap at junkyards. Why are we not all buying E38s right now?
The latest installment in Matt Farah's "One Take" series shows off this gorgeous, dirt-cheap, slammed BMW E38 7 Series—you know, the one from The Transporter that you've been lusting after for all these years. Watch Matt take this thing for a ride through some fantastic canyon roads.

This particular 7 Series has received the "VIP treatment," which means it's been slammed (the term "VIP style" originally referred to "stanced" Japanese luxury cars).

Brandon hasn't done much except replace the aforementioned troublesome cooling system, delete the muffler to let that V8 sing like the car gods intended, and throw on some coilovers. Somehow, Matt says, Brandon hasn't completely ruined the gorgeous Bimmer with his mods; you've got to give the kid credit for that.
More importantly, I've got to give Brandon credit for inspiring me to scour Craigslist for used E38s. Don't get me wrong, wrenching on old German luxury is borderline masochism, but damn.
Just look at this thing. We as humans are too weak to resist its lure.