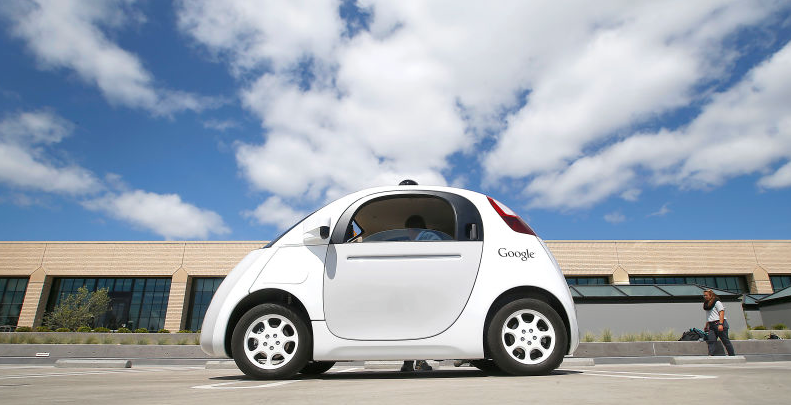 The head of Google's self-driving car division made headlines recently for asking federal regulators to permit a vehicle without human-facing features like a steering wheel. Now he's made a very good case for why no autonomous vehicle should have these things at all.
In an interview with NPR that aired today, Google's Chris Urmson hit home the point that it's simply not a good idea to any to have any kind of human-oriented controls in self-driving cars:
You wouldn't imagine that in the back of a taxi, we put an extra steering wheel or brake pedal there for the passenger to grab ahold of anytime. It would just be crazy to think about doing that. But at the same time, I could imagine that there are vehicles where most of the days you don't really want to drive it, so let it take you to and from work in the morning, for example, but on the weekend when you get a chance to get out onto some open road, that you might enjoy driving in that location. But I think the idea that you want the person to jump in who hasn't been paying attention or maybe had a couple of drinks with dinner and then jump in to override is probably not the right idea.
Although Urmson gives some examples of when you might want your car to go back and forth from semi-autonomous to fully autonomous, it's pretty clear from his last sentence that the steering wheel-free car is really the only safe option here. And that's what we know Google is pursuing.
Urmson's concerns made the rounds a few weeks ago when the National Highway Traffic Safety Administration responded to a letter from Google requesting what's called a "rule interpretation" on the design of its vehicles. Most of the buzz was about the NHTSA possibly considering Google's AI to be the "driver," at least from a regulatory standpoint, which was widely misinterpreted as the equivalent of giving a robot human rights.
But the biggest news was actually that a car company (or, the company that writes the software to run the car) is requesting to eliminate elements like a steering wheel, accelerator pedal, and brake pedal. These are things that are required by NHTSA since it is assumed that a human is operating a car. But Google is right to want to get rid of them because they're actually dangerous—as Urmson says, drunk humans could attempt to take control of the car when it's not safe.
So the question is this: How can Google's self-driving car program adhere to safety standards while designing vehicles for these new conditions in which humans are not driving?
I asked this question of Mike Lukuc, program manager for Connected and Automated Transportation atTexas A&M's Transportation Institute. Before he came to Texas A&M, Lukuc was NHTSA's program manager for Connected Vehicle Research, where he handled rule-making letters like Google's. "One problem with the NHTSA process is that they generally develop their standards based on historical crash data, so it's reactive rather than proactive," says Lukuc. It would take a very long time for the NHTSA to test and collect enough crash data on Google's vehicles to change that rule.
But what's happening now is that onboard technologies are evolving so quickly that NHTSA doesn't have years of previous data to compare them to, says Lukuc. So NHTSA is adjusting: A recent rule recommending vehicle-to-vehicle communication (V2V) for all cars was the first decision which was based on simulations and modeling instead of historical data. For a case like Google's, where lives are at stake, the NHTSA can't afford to wait. As Urmson points out in the NPR interview, 33,000 people are killed on American roads every year, with 94 percent of those crashes due to human error.
So this where most important part of our shiny new autonomous car policy comes into play. As part of the USDOT's new guidelines, announced a few weeks ago, NHTSA claimed it would grant automakers exemptions to help test potential safety innovations. BMW was able to get one, for example, to test its self-parking technology. The agency's exchange with Google makes it seem like this would be a prime candidate for one of those special exceptions.
This would also help with another issue that Google specifically faces. Remember that only a few months ago, California's Department of Motor Vehicles released their own draft rules on autonomous vehicles, which required that self-driving cars have human-focused features like steering wheels as well as a licensed driver in the vehicle at all times. (This is one of the reasons why Google might have recently started testing its cars in Kirkland, Washington.) The NHTSA's ruling would override any particular California policies, provided that the USDOT releases its set of best practices as promised within six months. It would be one federal exemption for Google in the name of safety, but it's could end up making all autonomous vehicles even safer.
[NPR]
Photo credit: AP Photo/Tony Avelar, File