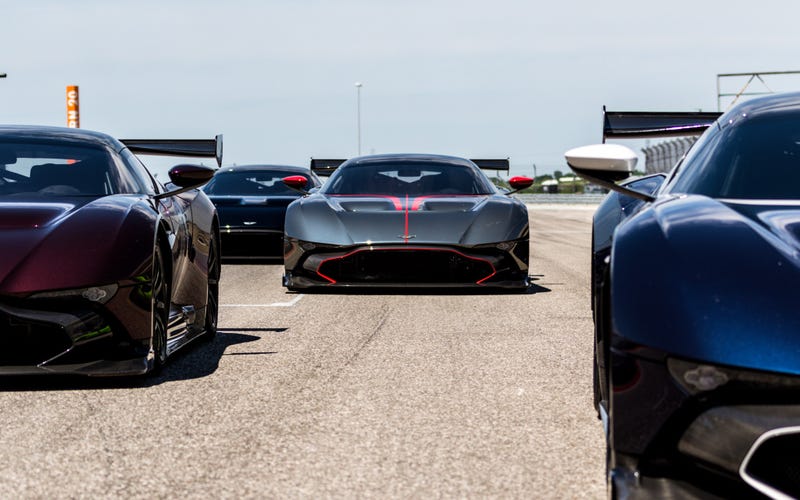 Last week, the wonderfully talented Kurt Bradley and I got to go out to Circuit of The Americas and hang out with a few Aston Martin Vulcans. They put the V12 Vantages to shame on the front straightaway, and they were about as beautiful as a powerful, growling beast of a track car could ever hope to be.
These photos are, of course, from Kurt. All I had with me was an iPhone and an undying need to drive the new Aston Martin DB11, which I did. It was lovely and fast, naturally.
Nine of the 24 total Vulcans showed up at these track days, but we didn't get to ride along since this was one of the three track days outings customers get for purchasing the car. That means the person who rode along with the drivers for every single lap was a professional instructor, and we just got to watch them all fly by.
But here's a view from the inside, which we never got to be in there for, from Adam Tobolowsky:
And here are a few more photos from Kurt, if you'd like:

May your week ahead be as beautiful as these Vulcans, and may you actually get to be along for the ride instead of sitting on the sidelines—or, on pit road, in our case. If you have any lovely photos you'd like to see featured as a weekend wallpaper, please feel free to send an email to the address below.
Photo credit: Kurt Bradley. Used with permission. For more photos, head on over to his website, Instagram account and Facebook page. For a big desktop version of the top photo, click here. Here are big versions of the second and third photos, too.
---
Weekend Wallpapers are usually featured on Sundays, (but not always!). Got one you'd like us to run? Send it to alanis.king@jalopnik.com with the subject "Weekend Wallpaper." Just make sure you have the rights to use it.