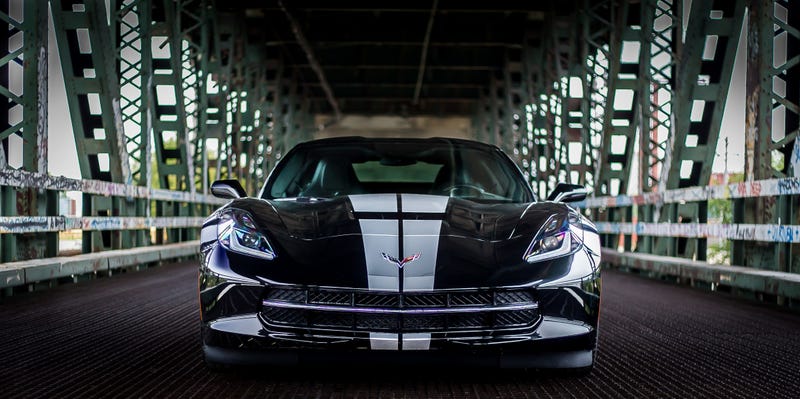 While this photo could make anyone want to put the pedal to the floor in its featured car, it's sure to make any passerby put the brakes on themselves to get a look—pretty much like the modern Chevrolet Corvette does in real life, too.

This weekend's wallpaper features a 2014 Corvette Stingray and comes from Andrew Fails. Used for a dealership promo at the time, Andrew staged the photo with some Kansas City, Missouri scenery as the backdrop. This isn't our first weekend wallpaper to feature a 2014 Corvette, which is understandable—they're just so good looking (and driving).
http://jalopnik.com/2014-chevrolet…
The 2014 Corvette Stingray has deep Jalopnik roots as well, like when it taught our writer Máté Petrány about what it means to be an American. The car also topped our list of reviewed cars in 2015, ahead of Aston Martins, Lamborghinis, Audis, Ferraris and, well, everything. To put it simply, we like this car.
http://jalopnik.com/what-driving-a…
We also like reader-submitted photos for our weekend wallpaper posts, since you guys are a talented group. If you have any images you would like for us to consider for a future post, feel free to send them to the email address below.
May your evening be as great as the photo above. And if you're as American as the car in it, enjoy tomorrow's Daytona 500. The race is basically a national holiday, and you'll probably even get the day off from work for it. (Wink, wink.)
http://blackflag.jalopnik.com/everything-you…
Photo credit: Andrew Fails. Used with permission. For more photos of his photos, check out his Instagram account, website and Flickr account. For a big desktop version, click here.
---
Weekend Wallpapers are usually featured on Sundays, (but not always!). Got one you'd like us to run? Send it to alanis.king@jalopnik.com with the subject "Weekend Wallpaper." Just make sure you have the rights to use it.