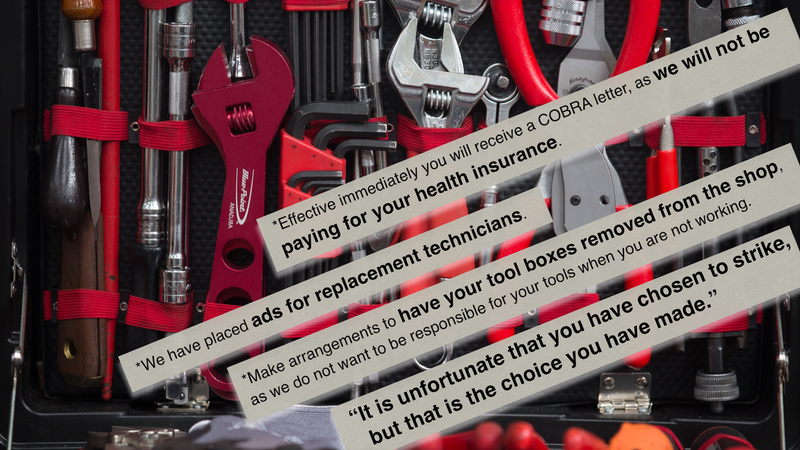 Nearly 2,000 mechanics in the Chicago area have been on strike since Tuesday over work hours. Letters allegedly sent by more than one dealership informed employees of the "consequences" of striking: a discontinuing of their health insurance, hiring ads for their jobs and, in one case, tools being put outside.

One letter was originally sent to Jalopnik by more than one emailer, all of whom saw the posts circulating in different Chicago-area automotive Facebook groups. Those who posted various photos of the letter claimed it was sent to employees by Napleton Cadillac in Libertyville, Illinois, in response to the area-wide strike including more than 100 dealerships across different brands, in which Napleton Cadillac allegedly said it would be doing the above to employees participating in the protest. Photos also circulated of toolboxes sitting outside, on a rainy day, of a dealership that closely resembles images of Napleton Cadillac.
A similar letter was later posted on Facebook by another user, claiming that his cousin worked at the Illinois-based Cadillac of Naperville. The post alleges that the Naperville dealership, which is not under the Napleton umbrella, sent an almost identical letter to its employees.
The alleged dealership letter from Napleton ended with the message: "It is unfortunate that you have chosen to strike, but that is the choice you have made." A photo of the alleged letter can be found here, but its contents are as follows:
August 1, 2017

To All Service Technicians:

This is to let you know the consequences of your strike. While we still intend to meet with your union on the 15 to continue negotiations, we will do the following:

*Effective immediately you will receive a COBRA letter, as we will not be paying for your health insurance. You will be responsible for the premiums in their entirety.

*We have placed ads for replacement technicians. If and when you are replaced, you will be notified. After you are replaced, should you make an unconditional offer to return to work you will be placed on a preferential hire list should an opening occur.

*Make arrangements to have your tool boxes removed from the shop, as we do not want to be responsible for your tools when you are not working.

It is unfortunate that you have chosen to strike, but that is the choice you have made.

Napleton Cadillac
In addition to work hours, the strike, which affects around 130 of the 420 new-car dealerships in the area, is over the union's claims of scheduling issues, harsh pay structure discouraging young people from joining the field and the inability to move up or achieve a long-term profession. Automotive News reports that Automobile Mechanics Local 701 has been negotiating since June with a committee that represents dealerships.

The most recent offer from dealerships was a three-year contract promising a pay raise of 5 percent annually, but Automotive News reported that the deal was "overwhelmingly rejected" by mechanics in the union. The main thing the mechanics want is a guaranteed 40-hour work week, Automotive News reports.
Jalopnik is actively reaching out to employees who have spoken about, posted about or shared images of the alleged letter and toolbox displacement with others, and we have yet to hear back from any. When reached by phone about the letter circling around and the allegations about toolboxes, a spokesperson for Napleton Cadillac in Libertyville told Jalopnik that company policy on the matter is "No comment."
A company statement posted on Facebook says the employees who received the alleged letter are non-union employees, although it says the dealership "still intend[s] to meet with your union" in the original letter. Here's the statement:
Jalopnik has also reached out to the union, and left a voicemail message for its directing business representative, Sam Cicinelli, on Friday afternoon. The call has yet to be returned.

While Jalopnik has yet to hear back from an employee, we checked on one of the claims in the letter—the job openings. The alleged letter said Napleton Cadillac had "placed ads for replacement technicians" as of August 1, and, regardless of the validity of the letter, that appears to be true. Posted "two days ago," as listed on the website, Napleton Cadillac had job listings on CareerBuilder.com.
Here's the description, which made sure to say the dealership "has immediate openings for Automotive Technicians at all skill levels." Chosen candidates can "start working today," it says.
There's also a group of photos being passed around on Facebook of the alleged letter and actions by Napleton Cadillac. This one came from a Chicago group, and its poster requested to only be identified by his first name. Therefore, Jalopnik is not linking to the original Facebook post in this article.

Another Facebook user, Dan Schubkegel, posted that his father was one of the affected mechanics in the actions Napleton Cadillac allegedly took against its striking employees. Schubkegel claims that all of the toolboxes were pushed outside, and that they were pushed back in when it began to rain heavily—all except for his father's, he said, which had "sunk into the asphalt."
Joe Schubkegel, his father, commented on his son's post to reiterate that he collected those tools for more than 35 years, and said they were worth more than $100,000 altogether. "I did nothing to these people and they treat me like this," he said.
While these remain allegations, the photos of tools outside of a shop are similar to Google Maps images of the Napleton Cadillac dealership. The arrows going in and out of the shop area appear in both the photo and the aerial view on Google Maps, and the street view has a similar layout.
The street view, below, says that it's from May 2012. That would explain the lack of a repave and yellow arrows, but the image is being included below because the fire hydrant appears to be in the same spot as in one of the images showing the toolboxes.
An employee of a different dealership, who wished to remain anonymous, said the photos shared by Justin were being passed around by various workers, as were allegations that the Napleton dealership "just tossed everything out." The employee didn't personally know anyone who'd been affected by the Napleton allegations, but called the alleged reaction to the strike "disgusting, really."

The other alleged reaction, said to be from Cadillac Naperville rather than the Napleton dealership, read as such:
Jalopnik has reached out to the Naperville dealership, and an employee there said he would have one of the company's executives call back for comment. We will update this post when that occurs.
A statement recently released by the union quoted Cicinelli, a longtime Cadillac technician before taking the union title, as saying the following about the strike reasoning via the Chicago Tribune:
The industry has "draconian pay structures prohibiting our ability to attract young, aspiring mechanics to enter the auto repair profession," according to the union statement. "Who will fix the cars and trucks in our future?" …

"They basically tried to throw money at a continued problem within the industry thinking that they would just stifle the members to accept and continue to work, but they've been working under these conditions for eight years. It's not working," Cicinelli said. "What do we do for a living? We fix things. We're trying to fix something that's broken."
This story will be updated as soon as Jalopnik is in contact with anyone close to the matter.
Thanks for the tips, Mathew and Jordan!