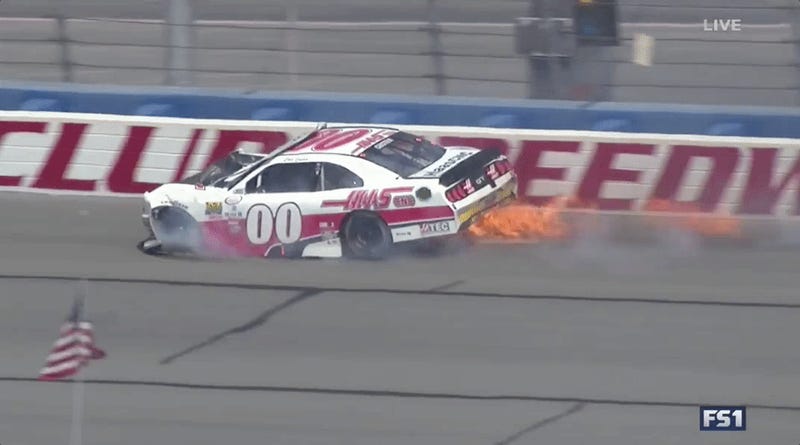 NASCAR Xfinity Series driver Cole Custer has a history of being in the wrong place at the times when his fellow NASCAR competitors are feeling a bit too aggressive. But, in a rare sighting at Auto Club Speedway in California, Custer actually experienced a wreck without any greedy or petty motive behind it.

Instead, Custer told the Fox Sports television crew that this time around, the No. 39 of Ryan Sieg spun him when he wound up further back in the field after a set of pit stops. The wreck sent Custer into the outside wall, spitting flames from behind his No. 00 car.
But our dear friend Cole Custer has been the victim of far worse wrecks in recent memory, such as Austin Dillon's revenge hit under caution after a collision at Phoenix International Raceway earlier in March or John Hunter Nemechek's insane wall slam for a Camping World Truck Series win in September. Custer wound up tackling Nemechek while he celebrated the victory.
The latest wreck ended the day for Custer in California, likely dropping him even further down in the Xfinity Series standings. But hey, there are some positives! At least Custer's wreck this time around wasn't as a result of some petty motive, like winning a race or getting revenge that didn't really mean much.
That probably won't make him feel any better, though.