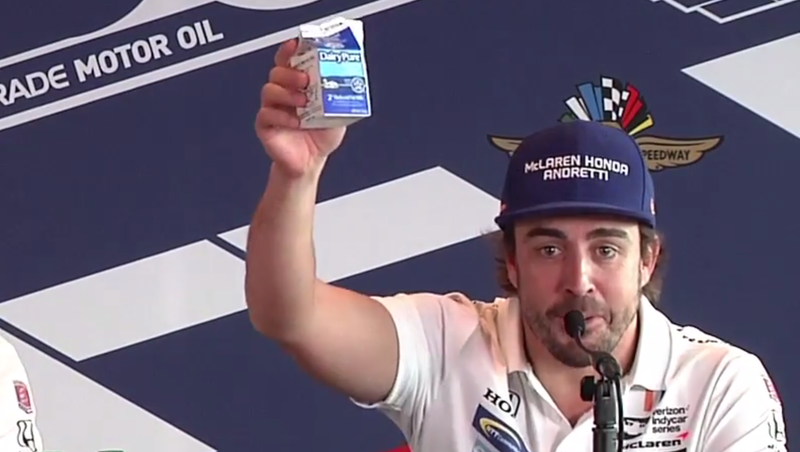 If there's anybody who earned a conciliatory carton of milk at the Indianapolis 500, it was two-time Formula One champ and Indianapolis 500 rookie Fernando Alonso. Despite not taking the checkered flag, Alonso told reporters that he still didn't miss taking part in the F1 Monaco Grand Prix.

Alonso's Honda engine failed on lap 179 of the race after he'd been battling for the lead for over two-thirds of the race. He was on a charge back up to the front in eighth place when it went. Alonso had led 27 laps of the race and showed himself to be a real contender at the Indianapolis 500 so long as his car worked.

But just because his car broke in the most heartbreaking way possible, it doesn't mean his miserable McLaren F1 car is among the #PlacesAlonsoWouldRatherBe. Alonso told reporters in a post-race press conference:

I won two times there, I won two world championships. To drive around Monaco for a seventh place, a sixth place, even a fifth place—to be here, it's not possible to compare… I didn't miss Monaco.
Competing for a short time is a bigger thrill than not being competitive at all.

Fortunately, for fans of Alonso's quest to win all three races in the Triple Crown of Motorsport, he says he'll be back. As quoted on The Drive:

If I come back here at least I know how it is. It won't be the first time I do restarts, pit stops… It will be easier. Winning the Indy 500 is not completed.
It's not over yet, everybody. Alonso's in this to win it, so he'll be back.

Even though he didn't finish this time, he still sort of took part in an Indy 500 tradition. At the end of his press conference, he picked up a carton of milk and toasted the press room.

After so much trouble with Honda engines in both series he's participated in this year, I say let him have it. Alonso's more than earned that milk.