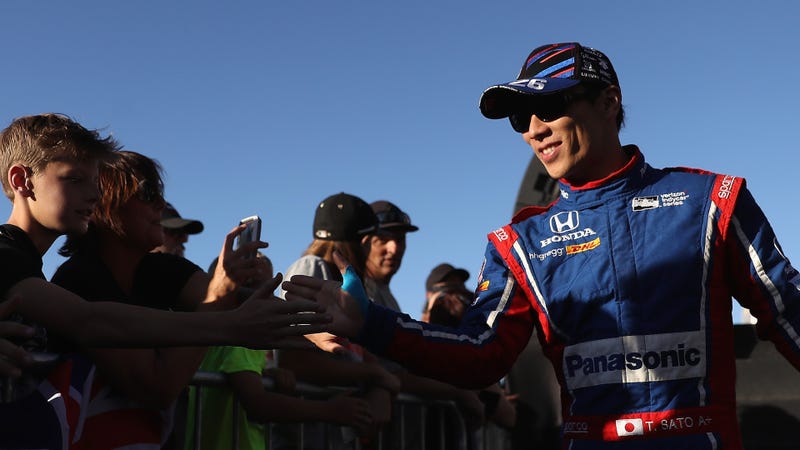 With a several late-race passes over leader Max Chilton and a fierce battle for the win with Helio Castroneves, Takuma Sato won the 2017 Indianapolis 500 at Indianapolis Motor Speedway. His car was the Andretti Honda engine that could… actually survive the race.
The race was full of wrecks and Honda engine troubles, which heartbreakingly struck Formula One superstar Fernando Alonso, Ryan Hunter Reay and Charlie Kimball. It was a script all too well known for Alonso, who was a real contender to win the Indy 500 and deals with a terrible McLaren-Honda car in Formula One all the time.
The wrecks got started when Jay Howard and Indy 500 pole sitter Scott Dixon went airborne early on in the race. Conor Daly later smacked himself into a wall while attempting to pass the pre-blown engine Kimball, and 49-year-old Buddy Lazier spun into a wall by himself. Lazier, the 1996 Indy 500 winner, took a trip to the hospital after the wreck complaining of chest pains.
Alonso's engine brought out a late yellow flag with just over 20 laps to go, and the field didn't make it long after the restart before piling up in a huge wreck. Things restarted for the final time with 11 laps to go and Max Chilton in the lead, but Helio Castroneves shot through the field from fourth to take it away.
Chilton fell back, and Sato climbed up to the second spot behind Castroneves. The two battled it out for the last few laps, with Sato passing him to take the win and Castroneves finishing second. Ed Jones finished third, Chilton fourth and Tony Kanaan fifth. Juan Pablo Montoya, in his one-off start, got sixth.