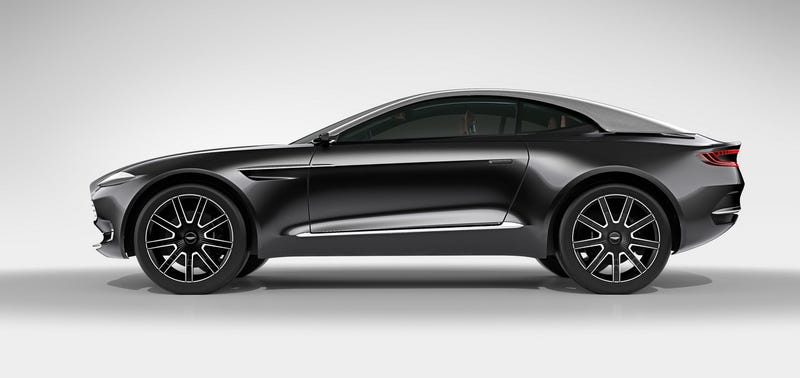 There have been rumors and reports for a while now that Aston Martin was going to build its DBX SUV in Alabama, because where else would you build an Aston Martin? Aston Martin's CEO even called it an "obvious choice." So, of course, Aston Martins are not going to be built in Alabama at all.

The Aston Martin DBX is going to be built in Wales. And while Wales is the Alabama of the United Kingdom, just with more sheep and less culture (come at me, people of Llanfairpwllgwyngyllgogerychwyrndrobwllllantysiliogogogoch, if you can buy a vowel and pronounce your own garbled town name first), it is technically not actually Alabama.
Oddly enough, Aston didn't select the site in Wales over Alabama simply because CEO Andy Palmer looks like a Welshman in a suit, or because Palmer wanted the thing built in the British Isles. Instead, he told Autocar that a big part of the reason is the new site, a series of massive hangars at the British military base at St Athan, was pretty much good to go from day one:
It wasn't the largest in terms of the size of the [grant] cheque on offer, but it won for many qualitative and quantitative reasons.

"In terms of timing, it had a lot going for it because St Athan is an existing facility and we don't have to the level the buildings and start from scratch. The crossover will to take us into a new market segment, and the benefit of not having to build a new facility from the ground up cannot be underestimated – it is one less thing to think about.

And with a small company that's as relatively cash-strapped as Aston is, that's a big plus.
The DBX—or not the DBX, as Aston says it's still unsettled on the name—will be built entirely in Wales, along with the upcoming Lagonda.
But still, a big part of me is sad that we don't get an Alabama Aston, all set to drive off some sweet jumps set up from a giant pile of dirt by Cousin Billy and soaked in nothing but the finest, cheapest beer you could imagine.
---
Contact the author at ballaban@jalopnik.com.

Public PGP key

PGP fingerprint: 0D03 F37B 4C96 021E 4292 7B12 E080 0D0B 5968 F14E