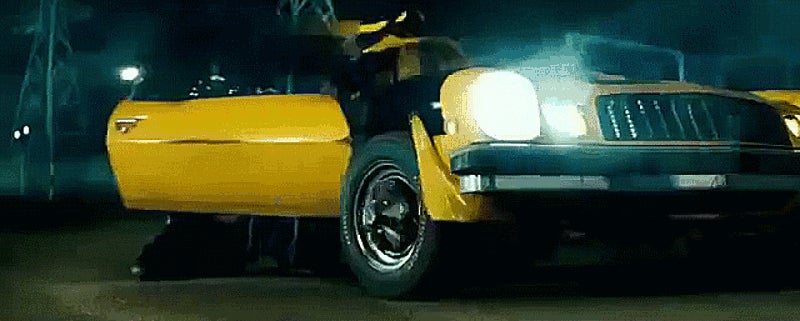 Bumblebee, the Transformers Autobot based on a Chevy Camaro that started out as a toy and then became a savior of the Earth in a slew of horrible, mindless action films will be getting his/its own spin-off film, because Hollywood is dead and the Camaro is doing really well.

http://films.jalopnik.com/inside-the-wri…
Well, Hollywood is very much alive but making very uninteresting "cinematic universes," and while the Camaro is selling well, it's the ticket and toy sales that are the driving force behind the alien robot in disguise as an American muscle car getting a spin-off Transformers film. Apparently the yellow destructive alien space robot is everyone's favorite.
A yellow destructive alien space robot that can't even speak like the other destructive alien space robots, and uses jumbled radio frequencies to communicate. Are you ready for almost three hours of scrambled, mashed together radio sentences as this car-alien tries to give away lazy exposition?
It was initially revealed that Paramount Pictures would be making three annual Transformers films starting in 2017, with everyone assuming it would be Transformers 5, 6, and 7. Luckily it's even more ridiculous, because the second movie to release on June 8th, 2018 is actually the spin-off film, with the sequel to the Transformers 5 coming in 2019. So basically, the seventh transformers film will be Transformers 6 with Bumblebee's film in between.
Is Transformers the Star Wars of our generation? (Please, no.)
Is Bumblebee actually anyone's favorite when Optimus Prime gives all those adrenaline pumping, war-weary speeches?
Please stop making these movies. Or, at least, please don't bring back Shia Lebouf's Sam Witwicky.
---
Contact the author at justin@jalopnik.com or @WestbrookTweets.