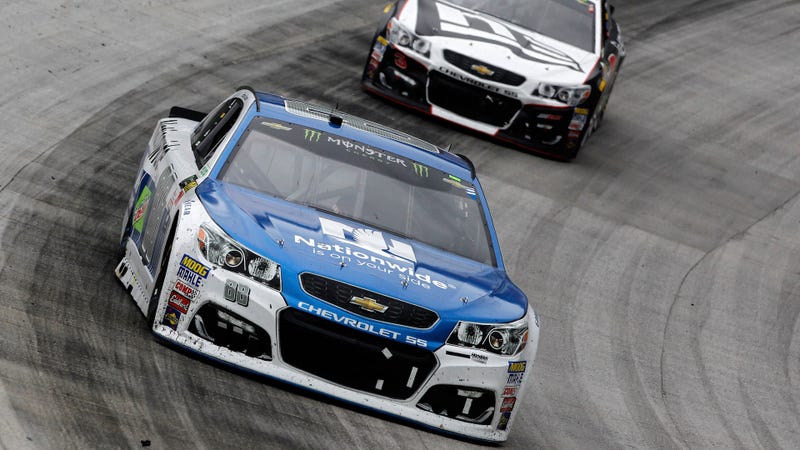 Welcome to the Jalopnik Weekend Motorsports Roundup, where we let you know what's going on in the world of racing, where you can see it, and where you can talk about it all in one convenient place. Where else would you want to spend your weekend?

The Monster Energy NASCAR Cup Series and Xfinity Series are at Richmond International Raceway in Virginia this weekend, and this is officially the start of Dale Earnhardt Jr.'s retirement tour. What a sad, bleak, hopeless world we will live in when NASCAR's favorite driver calls it quits at the end of this year.
But good for him, really. He should do the things that are best for his health, even if the rest of us are in tears about it all.
The other stock cars you can catch on television this weekend are those of the ARCA Racing Series, and the race will be broadcast Saturday night from the quite entertaining Fairgrounds Speedway Nashville.
The open-wheel coverage this weekend will consist of both the Verizon IndyCar Series and Formula One. IndyCar, which recently and very unfortunately gave into the robot overlords, will be at Phoenix International Raceway while F1 will run the Russian Grand Prix.
There will also be NHRA and Monster Energy Supercross on live this weekend, which should round out your racing fix decently well. The Red Bull Global Rallycross race from Memphis, Tennessee this weekend will be on a single-day delay on Sunday, so it's listed in the delayed column if you're looking for it. You can also catch some FIA World Rally Championship coverage from Argentina via online streams on both Saturday and Sunday, and Formula Drift coverage via live stream on Saturday.
Delayed coverage includes the Lucas Oil Late Model Dirt Series, FIA World Rally Championship, previous NHRA events, the Blancpain GT Series Endurance Cup, FIM Motocross and the Lucas Oil Off-Road Racing Series.
If you know of any additional racing events or streams going on this weekend, please feel free to share in the comments below.
All times ET.
Top Live Events
---
Monster Energy NASCAR Cup Series: Toyota Owners 400 at Richmond International Raceway in Richmond, Virginia
Saturday
5:30 a.m. — Practice (delayed) on Fox Sports 1
9 a.m. — Practice on Fox Sports 1
11:30 a.m. — Final practice on Fox Sports 1
Sunday
3:30 a.m. — Practice (delayed) on Fox Sports 1
4:30 a.m. — Final practice (delayed) on Fox Sports 1
11:30 a.m. — NASCAR RaceDay on Fox Sports 1
1:30 p.m. — Pre-race show on FOX
2 p.m. — Race on FOX
---
NASCAR Xfinity Series: ToyotaCare 250 at Richmond International Raceway in Richmond, Virginia
Saturday
10 a.m. — Qualifying on Fox Sports 1
12:30 p.m. — NASCAR RaceDay on Fox Sports 1
1 p.m. — Race on Fox Sports 1
3:30 p.m. — Post-race coverage on Fox Sports 1
Sunday
1 a.m. — Race (delayed) on Fox Sports 1
---
FIA World Rally Championship: YPF Rally Argentina
Saturday
11:50 a.m. — Super Stage via Red Bull TV
9 p.m. — Daily recap via Red Bull TV
Sunday
9 p.m. — Daily recap via Red Bull TV
---
Formula Drift: Round 2 in Orlando, Florida
Saturday
1 p.m. — Coverage via YouTube live stream
---
MotoAmerica: Suzuki Ecstar Championship at Road Atlanta inBraselton, Georgia
Saturday
2:30 p.m. — Supersport/Superstock 600 race No. 1 on beIN
3:15 p.m. — Superstock 1000 race No. 1 on beIN
4:30 p.m. — KTM Cup race No. 1 on beIN
5:15 p.m. — Coverage of first races (delayed) on beIN
Sunday
11:20 a.m. — KTM Cup race No. 2 on beIN
2 p.m. — Supersport/Superstock 600 race No. 2 on beIN
2 p.m. — Coverage of second races (delayed) on beIN
3:30 p.m. — Superstock 1000 race No. 2 on beIN
---
Monster Energy Supercross: MetLife Stadium in East Rutherford, New Jersey
Saturday
4:30 p.m. — Pre-race show on FOX
5 p.m. — Coverage on FOX
Sunday
11 p.m. — Coverage (delayed) on Fox Sports 1
---
Formula One: Russian Grand Prix at Sochi Autodrom in in Krasnodar Krai, Russia

Saturday
6 p.m. — Qualifying (delayed) on NBC Sports Network
Sunday
6 a.m. — Qualifying (delayed) on NBC Sports Network
7 a.m. — Pre-race show on NBC Sports Network

7:30 a.m. — Race on NBC Sports Network
10 a.m. — F1 Extra on NBC Sports Network

4:30 p.m. — Race (delayed) on NBC Sports Network
---
Verizon IndyCar Series: Desert Diamond West Valley Phoenix Grand Prix at Phoenix International Raceway in Avondale, Arizona
Saturday
7:30 p.m. — Qualifying (delayed) on NBC Sports Network
9 p.m. — Pre-race show on NBC Sports Network
9:30 p.m. — Race on NBC Sports Network
11:30 p.m. — Post-race show on NBC Sports Network
---
ARCA Racing Series: Music City 200 at Fairgrounds Speedway Nashville in Nashville, Tennessee
Saturday
9 p.m. — Coverage on MAVTV
---
NHRA: NHRA Four-Wide Nationals a zMAX Dragway in Concord, North Carolina
Sunday
12 a.m. — Qualifying (delayed) on Fox Sports 1
9 a.m. — Qualifying (delayed) on Fox Sports 2
10 a.m. — Qualifying (delayed) on Fox Sports 2
5:30 p.m. — Coverage on Fox Sports 1
---
Top Delayed Or Re-Aired Events
---
Saturday
10 a.m. — Blancpain GT Series Endurance Cup in Monza, Italy on CBS Sports Network
3 p.m. — Lucas Oil Late Model Dirt Series at East Bay Raceway Park on MAVTV
6 p.m. — Lucas Oil Late Model Dirt Series at East Bay Raceway Park on MAVTV
9 p.m. —NHRA Springnationals at Royal Purple Raceway on Fox Sports Southwest
Sunday
1 a.m. — FIA World Rally Championship from Italy on MAVTV
4 a.m. — Lucas Oil Late Model Dirt Series at East Bay Raceway Park on MAVTV
6 a.m. — FIM Motocross MX2 race from the Netherlands on CBS Sports Network
6 a.m. — Amalie Motor Oil NHRA Gatornationals Sportsman Series at Gainesville Raceway on Fox Sports 2
7 a.m. — FIM Motocross MXGP race from the Netherlands on CBS Sports Network
7 a.m. — DENSO Spark Plugs NHRA Nationals Sportsman Series at The Strip at Las Vegas Motor Speedway on Fox Sports 2
8 a.m. — Amalie Motor Oil NHRA Gatornationals Pro Mod Series at Gainesville Raceway on Fox Sports 2
1 p.m. — Red Bull Global Rallycross in Memphis, Tennessee on NBC
2 p.m. — Lucas Oil Off-Road Racing Series from Glen Helen on MAVTV
5 p.m. — Lucas Oil Off-Road Racing Series from Glen Helen on MAVTV
7 p.m. — Lucas Oil Late Model Dirt Series at Golden Isles Speedway on CBS Sports Network