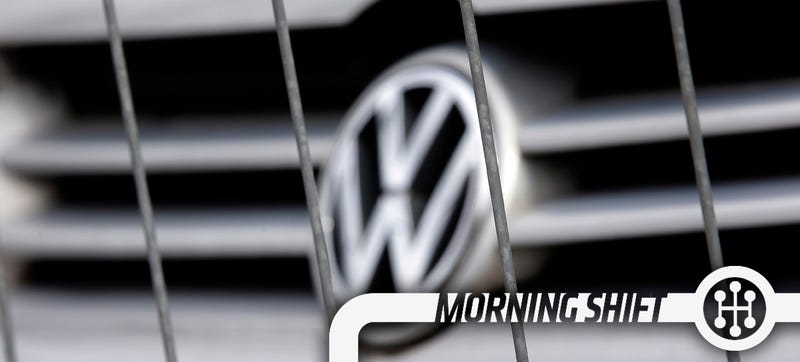 Good Morning! Welcome to The Morning Shift, your roundup of the auto news you crave, all in one place every weekday morning. Here are the important stories you need to know.
1st Gear: 182 Days Of Dieselgate
It was on Sept. 18, 2015 that Volkswagen came clean, if you'll excuse the pun, about using a system for years on its diesel cars that cheated on emissions tests and emitted far more NOx pollutants than is legally allowed.
What's been fixed since then? Not a whole lot, if anything. Hundreds of thousands of owners are waiting to hear if their car needs a recall, or will take a hit on resale value; numerous executives, including U.S. CEO Michael Horn, have been shown the door; scores of TDI models remain un-sellable until they're fixed, whenever that will be; buybacks are likely; sales are plummeting in the U.S. and Europe amid a new car boom as dealers are close to a revolt; Volkswagen has apologized profusely, but seldom effectively; the company faces billions in lawsuits and fines; and it may not meet a deadline set for next week to announce a fix.
Other than that, things are swell.
2nd Gear: VW Wants To Fix Everything At Once
So obviously, VW needs all that shit to go away, like, now, and the latest round of news is that the automaker is seeking a "comprehensive" deal with U.S. regulators. Via Reuters:
"It must be our goal to negotiate a comprehensive solution, which could also include the lion's share of expected penalties," the person, who asked not to be named because talks with U.S. authorities were confidential, said on Thursday.

He said negotiations were focused on fixes for affected cars as well as compensation for excessive nitrogen oxide emissions. German magazine Wirtschaftswoche had reported earlier that VW could buy emissions rights for nitrogen oxide.
Good luck!
3rd Gear: The Trucksplosion Was Good For Mark Fields
Meanwhile, at automakers that are actually successful in America, Ford's doing quite well amid the cheap gas-truck/SUV bonanza. So its CEO Mark Fields was rewarded with a 17 percent raise in 2015, Ford said today in a regulatory filing reported by Automotive News:
His total compensation was worth $18.6 million. His pay includes a $1.8 million salary, a $3.5 million cash bonus and $12.1 million in long-term stock and performance-based equity awards.

[…] Ford earned $7.4 billion in net income last year, posting a record pretax profit of $10.8 billion. It earned $9.3 billion in just North America, which triggered profit-sharing bonuses averaging $9,300 — the most it ever paid — for its nearly 53,000 hourly workers.
4th Gear: Car Hacking
Apropos of nothing, the FBI and National Highway Traffic Safety Administration warned everyone on Thursday that car hacking is scary. Reuters:
The FBI and U.S. National Highway Traffic Safety Administration (NHTSA) issued a bulletin Thursday warning that motor vehicles are "increasingly vulnerable" to hacking.

"The FBI and NHTSA are warning the general public and manufacturers – of vehicles, vehicle components, and aftermarket devices – to maintain awareness of potential issues and cybersecurity threats related to connected vehicle technologies in modern vehicles," the agencies said in the bulletin.
Now you know, and knowing is half the battle.
5th Gear: Fixing Honda
Honda seems to be on the path to getting its A-game back, but new President Takahiro Hachigo has a lot of work to do to put quality issues and recalls behind the company. Bloomberg has a good run-down of his plans. Here's a highlight:
On boosting Honda R&D

We should restore power back at Honda R&D, let them design the products and sharpen product competitiveness. They are charged with developing products with Honda's characteristics in both design and driving performance. They will play a leading role in product development.

On Honda's global outlook

Over the past few years of expansion, we have built a global capacity of 5.5 million units. There's no immediate need to build new plants. In the next three to four years, we will try to fill the gap between sales and production capacity.
He also says he's not concerned about the outcome of the U.S. presidential race, saying "I think it's more important for us to make exciting products for our customers than to bet on who will become the president." Easy for you to say, you don't have to live here.

Reverse: The First Time, Anyway
http://www.history.com/this-day-in-hi…
Neutral: Ugh Dieselgate
Share your thoughts on this special anniversary.