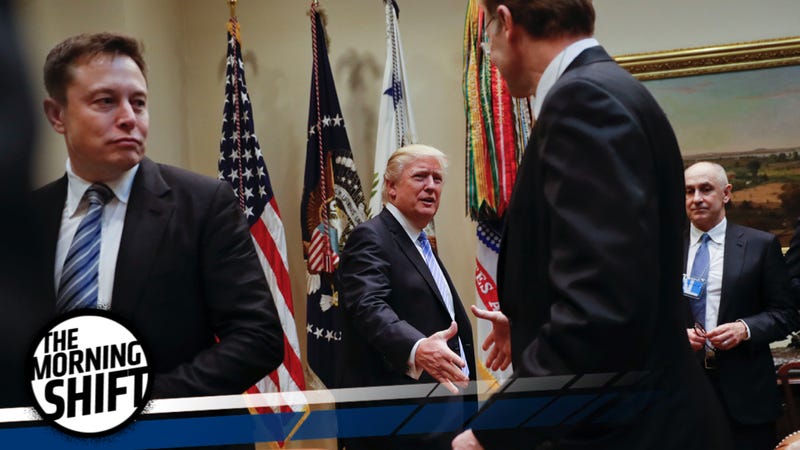 Good morning! Welcome to The Morning Shift, your roundup of the auto news you crave, all in one place every weekday morning. Here are the important stories to read in your fallout shelter as the whole world melts down.
1st Gear: Well That Was Pointless
There are a bunch of people that hang around Donald Trump's presidential administration, to varying degrees, hoping for a degree of influence over his addled brain. There's Ivanka Trump, who stands up for women, the State Department, which is enhancing our global relationships beautifully, and then there's Elon Musk, who thought he might be steering Trump towards environmental logic and rationality by signing onto his "business council," instead of acting as a prop.
But he got played like everyone else. Yesterday news emerged that Trump plans to make the United States be the only country ever to pull out of the Paris Climate Accords, leaving 195 other countries behind, and possibly dooming all of humanity to an early demise.
(Not that this was in any way, shape, or form a surprise, as the welcoming of inevitable untold destruction is seemingly theonlyconsistentideologyTrumphasevermaintained. Ever. Ever. Ever. Ever.
Ever.)
Now Elon's growing wise, and saying that if Trump does indeed pull America out, he'll quit the business council.
That'll show him.
2nd Gear: Mark Fields Tried To Fire His Top Lieutenant
Former Ford CEO Mark Fields tried to fire one his own top executives, days before he was fired himself,Automotive News reports:
Days before his May 19 ouster as CEO of Ford Motor Co., Mark Fields was proposing to fire his top lieutenant, Joe Hinrichs, in an effort to relieve some of the pressure he was facing from a skeptical board of directors, Automotive News has learned.

Fields intended to get approval from the board for his decision to fire Hinrichs during the week of May 14, sources said.

Fields' plan backfired, however, when the board decided instead to part ways with him and communications chief Ray Day, following a Friday, May 19, meeting. Instead of a pink slip, Hinrichs was given a promotion to the newly created position of president of global operations, in charge of Ford's global product development; manufacturing and labor affairs, among other things.

That's not gone well.
3rd Gear: Please Get Your Takata Airbags Fixed
This is a reminder. Please get your Takata airbags fixed. Over 65 percent of you have not done so. It's a problem. People have actually died from this.
Please, please fix them.
4th Gear: GM Cutting A Shift
General Motors is cutting a shift at its Warren transmission plant, which will affect about half of the 580 workers there, according to the Detroit Free Press:
The move is apparently an effort to adjust to slower passenger car sales as consumer tastes have increasingly switched away from cars to SUVs and crossovers. Automakers, however, are also dealing with plateauing vehicle sales after seven years of growth.

"Recent actions to reduce passenger car production have caused us to adjust transmission production," GM said in a statement. "This action will help maintain more stable production and provide the smallest impact to plant employment going forward."

"Job re-training programs are important" is really all you can say at this point.
5th Gear: But Ford Sales Are Up!
Ford sales were up 2.2 percent in May, as the company sold 241,126 vehicles, the Detroit News reports:
The Dearborn automaker said its truck sales rose 9.4 percent in the month, while SUV sales increased 4.3 percent and car sales slid 10 percent. F-Series truck sales totaled 76,027 last month, up 12.8 percent from May 2016. It marked the best May results in 13 years.

"May marked a standout month for Ford brand SUVs, with a May record 74,910 SUVs sold," Mark LaNeve, Ford vice president of U.S. marketing, sales and service, said in a statement. "Plus, we continued to see strong F-Series performance, with sales and share rising this year, along with average transaction pricing. In May, overall F-Series sales were up double digits and transaction prices grew $3,300 per truck."

The disappointing news is that car sales are down as people shift to SUVs. Don't get me wrong, SUVs have their purposes, but for 99 percent of applications cars are just better. You may call that "opinion," but nay, I say FACT. Lotus ain't never made an SUV, and look how good their cars are, and look how well their business is run.
On second thought, don't use Lotus as the comparison.
Reverse: Oh Hey, It's Nissan
On this day in 1934, the Tokyo-based Jidosha-Seizo Kabushiki-Kaisha (Automobile Manufacturing Co., Ltd. in English) takes on a new name: Nissan Motor Company.

Neutral: Is The Environment Actually A Thing For You?
It looks like the government might be betting against humanity's future, but weirdly, corporations are not. Has the environment ever factored into your car buying decisions in any way?