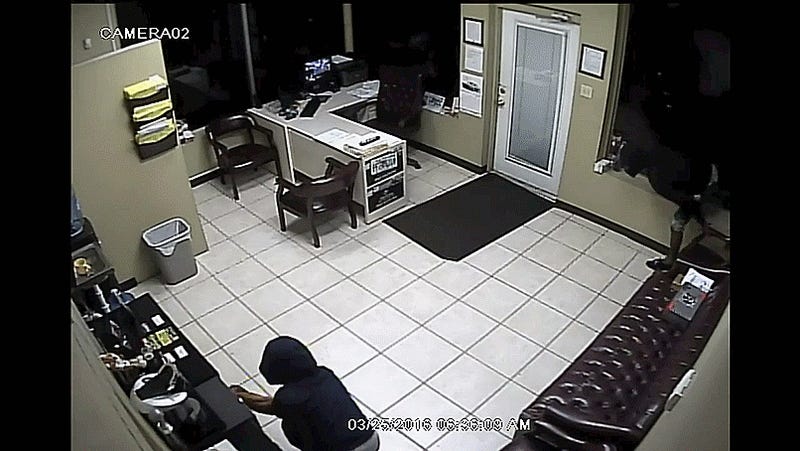 Early on Friday morning, a group of suspected young men rolled up to a Tampa, Florida car dealership in a stolen minivan. A stealthy operation resulted in eight additional stolen cars for their fleet, but cameras caught the whole thing—from sifting through the office for keys to ramming other cars on the way out.

Before we get to what became of the cars and the group, here's the surveillance footage from the incident:
The theft occurred at Prespa Auto Sales at around 6:40 a.m. on Friday morning, according to the Tampa Bay Times. Tampa police identified the minivan—a very hardcore mode of transportation for making auto thefts—that the group arrived in as a Honda Odyssey stolen from the Orlando area.
Footage shows about 10 people in the operation, with two masked members of the group entering the dealership office to find the vehicle keys. Their comrades weren't as stealthy, with several unmasked people making appearances in front of the lot camera before hopping into the cars.
According to the Tampa Bay Times, the group managed to steal eight cars before departing the lot at 7:15 a.m.—just over half an hour after they arrived. In the process, 14 other cars reportedly sustained damage.
Of the stolen cars, the Tampa Bay Times reports both that a Dodge Ram and a 2005 BMW—model not mentioned—were recovered by Friday evening. The BMW didn't come back in pristine condition, though, as occupants abandoned the car following a single-car crash on the interstate. Police are still on a search for the group, according to WFLA 8.
Mass thefts this bold seem like the kind of thing that can only be fabricated on television, but hey—Florida usually manages to prove us wrong when it comes to wacky brushes with the law.