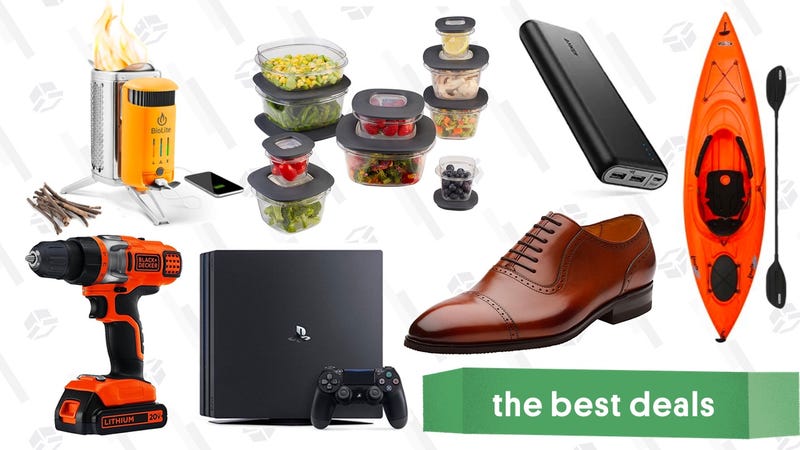 Start off your Friday with a dress shoe sale, PS4 E3 discounts, a whole bunch of Father's Day gift, and more.
Bookmark Kinja Deals and follow us on Twitter and Facebook to never miss a deal.

It feels like it's been awhile since we've posted a deal on an old fashioned Anker PowerCore battery pack. You know, one without built-in AC prongs, USB-C Power Delivery, or any other bells and whistles.

If all you need is a lot of extra charge and a couple of regular (albeit still fast) USB ports, the trusty PowerCore 15600 is on sale for $30 today, about $6 less than usual.
---
There's no such thing as owning too many Qi chargers, so set up another one in your house or on your desk for just $10 with promo code KINJAP14. This model will charge compatible Android phones at 10W, though iPhones will be limited to the standard 5W.

Note: There's a $10 Lightning deal running right now, but this promo code actually makes it a few cents cheaper.
---
This inexpensive, compact sound bar probably isn't ideal for your main home theater—it's only two channels, and doesn't have a subwoofer—but for $63 with the code KINJATVZ, it would be a massive upgrade for, say, a kitchen or bedroom where you're still using your TV's built-in speakers. It's also wall-mountable, includes an optical audio cable, and will also work as a big, loud Bluetooth speaker for your phone.
---
Echo speakers and smart plugs go together like Rafa Nadal and red clay, and now you can get one of each for just $51. That's only $1 more than the regular price of Amazon's Echo Dot (though it's currently on sale for $40), and TP-Link's smart plug has been a hit with our readers for several years now.
---
It was only a matter of time until Anker dove into the home security camera market, and you can save big on the impressive new Eufy EverCam by preordering through Kickstarter right now.

The EverCam is a truly wireless camera designed for outdoor use that can operate for up to a year on a charge thanks to its built-in Anker battery. Mind you, it won't record 24/7 for a year, but rather uses motion detection and facial recognition to record only when it detects someone on your property that doesn't belong.
Rather than streaming this footage to the cloud and charging you a monthly fee to access the recordings the EverCam, records to an included base station for free, which also has a built-in backup battery to operate for up to two days in a power outage. If you'd like to back up your recordings to the cloud, you can do that too for $3 per month, per camera.
The closest analog to the EverCam is NETGEAR's Arlo system, but Arlo cameras only run for a few months on a charge, aren't as water-resistant, don't include human or facial recognition, and can't record footage locally for free. It seems like an easy call.
By preordering through Kickstarter today, you can save $110 off the expected MSRP for one camera, or $160 off the 2-pack.
---
Mohu's long made some of the most popular indoor HDTV antennas on the market, and their stylish new Blade is on sale for $18 off its usual price today, just in time for the World Cup, where 38 matches will be broadcast on Fox over the air.

Already marked down to $40 from its standard $50, promo code 20BLADESAVE will take an extra $8 off the Mohu Blade at checkout. The Blade is a shiny, monolithic slab that can stand up on a table, mount to the wall under your TV, or attach to the beams in your attic, if you really want to get it out of the way.
The Blade's inline amplifier is powered by USB, but the USB and coax outputs merge where they attach to your TV, meaning you'll basically only have to run one cable to the antenna itself. The Wave has a listed range of 40 miles, but that'll vary significantly based on the topography and number of buildings in your area that can cause interference. Lifehacker has a great guide to help you find out if this is the sort of antenna for you.
---
Update: This deal is set to expire today. They've extended it in the past, but there's no guarantee they will again. Once it's gone, I doubt we'll ever see another $74 discount on the 4K Apple TV.
Apple just announced that the 4K Apple TV will gain support for Dolby Atmos later this year, making it the only streaming box in existence with support for both Atmos and Dolby Vision HDR.

While you won't be able to enjoy Atmos immediately, if it's something that interests you, you probably want to take advantage of this DirecTV Now promotion to get it for $105, or over $70 less than usual. The promo is currently scheduled to end on Friday, and while they've extended its availability in the past, there's no guarantee that will continue.
---
You can seemingly build just about anything with a Raspberry Pi, including your own miniature game console, and here's a great deal on the Raspberry Pi 3. The kit comes with a case, a power supply, and some heatsinks, but you'll need to provide a microSD card. Get the kit for $42 with promo code SBBRUUJ9.
---
Most inexpensive Bluetooth speakers you see include a single 5W driver, or maybe dual 5W drivers if you're lucky. But the AOMAIS Sport II packs in a pair of 10W drivers, plus IPX7 water resistance (meaning it can actually be submerged to a point), and the ability to sync two of them together in a stereo pair. Not bad for $26 (with promo code 3NZGW97D).
---
Update: This just dropped an extra $9, now down to $80.
Brother makes some of the only printers you won't want to punt into an active volcano, and the new HL-L2350DW is on sale for an all-time low $80 today.

Compared to the reader-favorite 2340DW it replaced the 2350 is faster (32 ppm vs. 27) and includes Amazon's Dash replenishment service, which can automatically order toner when you're running low, but otherwise, it's exactly what you'd expect: A fast, reliable, toner-sipping monochrome printer that will get the job done.
$80 is an all-time low, so grab one before the price goes back up.
---
Unless you really need to print in color, Brother makes some of the only printers worth buying, and their small office-friendly DCPL2550DW is on sale for a consumer-level price today.

Like Brother's home printers, this model spits out about 36 pages per minute, includes Wi-Fi connectivity, uses inexpensive and long-lasting toner, and just generally works much more reliably than any inkjet printer out there. The biggest advantage of this model over a consumer-level HL-series printer is that it includes a document feeder for the scanner, meaning it can automatically scan 50 pages in a row with no user input. You might use that feature, like, once, but you'll probably be really glad you have it.
$100 is the best price Amazon's ever listed on this model, so list that inkjet printer of yours on Craigslist, and go lock in your order.
---
Vizio's E-Series TVs are perfectly fine, but they lack some of the high end features of Vizio's more expensive lines. But with the 2017 E-series sets, something interesting happened when you went above 60″: A lot of those fancy features started to make cameos.

For example, this 65″ 4K E-series includes local dimming, which lets an otherwise standard LED TV achieve impressive contrast, and hit surprisingly deep black levels. It's only 12 zones, but that's more than you get on a lot of budget TVs. It also supports HDR 10, which isn't as good as Dolby Vision, but again, it's better than nothing.
$600 is a great price for this set, and given that it's last year's model, it probably won't be around for long.
And in case you missed it earlier this week, a 50″ version is still on sale for $300, though it lacks the aforementioned local dimming and HDR.
---
Apple took away the SD card reader in its latest laptops, but you can have it back with this $10 dongle from Anker (with promo code ANKER837). It plugs straight into a USB-C port, and has both SD and microSD slots that operate at USB 3.0 speeds. Plus, it's small enough to fit into basically any laptop sleeve, so you can take it with you anywhere.

---
Want noise cancellation in a pocket-sized package? Sony's noise-canceling true wireless headphones are on sale for $158 today, which is $2 less than we saw on Black Friday, and an all-time low. They don't have the best battery life, so you can't use them continuously all day at work, but their included charging case makes it easy to top them off. And hey, they're freaking noise-cancelling truly wireless earbuds. That's amazing!
Sony's noise-canceling over-ears are also available for $298 right now, if you missed them yesterday.

---
Sony's WH1000XM2s put the noise-canceling headphone world on notice when they were released last year, and now, you now they're back on sale for $50 off. They're still an investment at $298, but if you spend any significant amount of time in planes, trains, or just a noisy office, they'll probably be the best thing you buy this year.

---
Apple's latest entry-level iPad is a little faster than the previous model, and supports the Apple Pencil. But if you don't really care about such things, you can get a great deal on the old one.

Walmart has the 32GB fifth-gen tablet marked down to $249 ($80 less than the equivalent 6th gen), as well as the 128GB model for $329 ($100 less). This is the iPad I currently own, and yes, it can run Civilization VI.

---
VPNs have been in the news, and whether you want to get around video geoblocks, circumvent proxy filters, or just keep prying eyes out of your browsing data while using sketchy public Wi-Fi, reader-favorite Private Internet Access has a deal to fit your needs.
Last month, they offered our readers $10 off two year memberships, but this time around, you get a few more choices, ranging from a quick taste of the service to an extended commitment with additional savings:
These deals are only for our readers, but we aren't sure how long they'll be available, so go ahead and sign up while you can.
If you aren't happy with your current drill, Amazon's discounting a 20V Black & Decker down to $40 today, the best price ever. It's not the kind of thing you'd use for heavy duty contracting work, but it'll be perfect for basic DIY jobs around the house.

If space is at a premium, they sale also includes a compact electric screwdriver. It's not going to be punching any holes in your drywall, but it'd be fine for assembling IKEA furniture.
---
A fancier cousin to your best-selling Rubbermaid Easy Find lids, this Rubbermaid Premier set looks a little nicer and has even more stain-blocking and odor-resisting power, so the containers will stay clear and new-looking for longer.
Today's price isn't the cheapest we've ever seen, but it is about $5 less than usual and you'll pay just $2.50 per container and lid pair.
---
Plastic straws are a hot issue right now. Jump on the green bandwagon and help out the environment by drinking out of these reusable metal straws. This set of four is just $5 with code AYPOM52T, and comes with a little cleaning brush.
---
For a limited time, Amazon will sell you three pouches of Tide HE-compatible laundry detergent (totaling 144 ounces or 93 loads) for just $15. These pouches are designed basically as refills for plastic Tide bottles, but as long as that doesn't bother you, this is a fantastic price-per-ounce for any detergent, let alone name brand. Just be sure to clip the $2 coupon on the page and use Amazon Subscribe & Save.
---
If you missed the Breville Compact Oven deal we posted earlier this week or are looking for a larger toaster oven, then Breville is here to grant your wishes.
Discounted by about $50 today, this Smart Oven Pro has more space and more heating elements, so you can pretty much stop using your normal oven all together. It can fit a pizza up to 13″, six slices of toast, and it has a slow cook function which will keep your food at a low temperature for up to 10 hours.
If history is any indication, this $216 price might not last long, so grab this while you can.
---
OXO Good Grips Cold Brew Coffee Maker | $40 | Amazon
Cold brew coffee is basically the only kind of coffee I like, and when there wasn't a Starbucks readily available, I'd been using the popularTakeya cold brew pitcher for over a year to make it at home. That all changed when my mother-in-law got me OXO's alternative last Christmas, and it quickly became one of my favorite possessions.
The Takeya is fine. Good, even, especially for under $20. But at Shane's recommendation, I wanted to try the OXO, and wow is it stellar. The video above tells you everything you need to know about how it works, but I promise you that the coffee you get after 24 hours of steeping is potent, delicious, and and can easily last you over a week, even if you don't dilute it as much as OXO recommends.
Its MSRP is $50, and as an OXO product, that's about what you'll typically pay. Right now though, you can get it for $40, the first discount we've seen all year.

---
We've seen several deals recently on Anker's hub-free smart light bulbs, but if you don't mind buying a 2-pack, today's discount is the best per-bulb price we've seen.
This particular bulb can't display the full RGB spectrum like a Philips Hue lamp, or even different temperatures of white, but you can control and dim it from your phone, or with an Alexa or Google Assistant device, no hub required. And at $13 each, you can afford to put them all around your home.
---
Around Christmas time, we talked about a deal on a 12-pack of these baking cups for $5. Today's deal is even better, with 24 cups for $8. These can be reused hundreds of times, make convenient tiny bowls for keeping track of screws and parts when you're not baking, and are around $1 less than usual.

---
There's no telling when you might need an extra table – whether it be for additional workspace, to host a game night, or to seat dinner guests. Set up this 4′ adjustable-height folding table for just $36, the best price we've seen all year.

---
You need dishwasher detergent anyway, so you might as well buy it on sale. While supplies last, Amazon's offering a $3 coupon on this 68-pack bag of Finish Quantum tabs, bringing it down to $11 when you combine with Subscribe & Save savings.

---
We see deals on reader-favoriteThermapens pretty often, but this ThermoWorks sale includes a whole bunch of other discounted timers, probe thermometers, and more for Father's Day.

First up, the classic Thermapen and slightly faster Thermapen Mk4 (black and blue colors only) are both 15% off. But, if you have already have one of those, this industrial infrared gun is $20 off, which can be useful for construction, checking your AC unit, and more.
Also on sale, this giant, extra loud kitchen timer, which I imagine Gordon Ramsay would approve of. And, this probe thermometer, great for deep frying, home brewing, and smoking meat.
There's even more to look through, so head over to ThermoWorks and start shopping. Father's Day is June 17th, so make sure to get your orders in while there's still time.

---
There are a couple different DIY fixes (toothpicks, rubber bands, etc) to remove stripped or damaged screws, but if you don't have the time or patience to try those out, consider grabbing this $7 Dr. Meter kit. It includes four bits that fit into most drills, and grips onto screws making them easier to remove. Just be sure to enter MWIA5Z4J at checkout.
---
If you're in a bind with what shoes to wear to your next wedding, or just need to trash your old, scuffed loafers, you're in luck. Amazon is marking down a bunch of dress shoes from Dapper Shoes Co. and you can grab a pair for way less than you'd normally pay. But this is a one-day-only deal, so don't pace too long thinking about it.

---
Just because you're outside doesn't mean you can't enjoy the comfort of a recliner. This reclining Kijaro chair on Woot is just $20 today, which is about half its usual Amazon price. It comes with a carrying bag and a mesh pocket for your phone. However, it doesn't have a foot rest, so just remember to pull the cooler close to you and to prop your feet up.
---
BioLite CampStove 2 | $104 | Amazon | Promo code BIOGMD20
It's impossible to describe the BioLite CampStove 2 without sounding like you just woke up from a fever dream, but here goes nothing…
So you find some sticks just laying on the ground, toss them into the stove and press a button to light them on fireUpdate: I misunderstood, it comes with some fire starter that you can light with a match and throw into the stove, but it doesn't start itself, sorry! Then, you plug your phone into the USB port on the side of the stove, which is connected to a battery that is recharged by the flames. It's completely bonkers, and yet it works.
Of course, this also works as a regular old camp stove, and at full power it can boil a liter of water in under five minutes. It's also super light, and is about the size of a large water bottle, so it won't take up too much space in your camping bag.

From now until Father's Day, you can save $26 on the stove with promo code BIOGMD20.
---
If you live anywhere near a body of water, and if you've got the space for it, you should own a kayak. It's a great way to explore an area and see things you otherwise wouldn't, not to mention fantastic exercise.

Walmart's currently offering this Lifetime Lancer 100 sit-in kayak for $200, or about $100 less than elsewhere on the web. You'll have to pay $50 to get it shipped to your house, but you can pick it up at your local Walmart for free.
---
if you want to keep track of your new year's weight loss resolutions, Anker's ultra-popular Bluetooth smart scale is back on sale today for just $29 with promo code EUFYS789.
In addition to functioning as a normal digital bathroom scale, the Eufy BodySense can measure metrics such as body fat percentage and body water, and sync all of that data over Bluetooth to your iOS or Android smartphone. You can see my impressions here, but it's the most seamless and reliable smart scale I've ever personally used, and a great deal at $29.
This weekend only, ComiXology is taking 50% off basically every Marvel comic they sell with promo code MARVEL50. The only exclusions are titles released since May 22 of this year, as well as Max and Icon comics.

If you're overwhelmed by the options, this page has a bunch of ideas to help you get started. And as always, feel free to drop your recommendations in the comments. Happy downloading!
---
It's not exactly a second season, but Firefly fans should still be excited to see that the show just got a special edition 15th anniversary Blu-ray release earlier this year, and you can get it for the best price in the history of the Verse today.

The contents of the discs are unchanged from the original release, but the set does include some nice box art, a map, and and postcards of all the major characters.
---
If you were waiting on E3 discounts to pick up a PS4 Pro, your time has come. The console is available now for $350, or $50 less than usual. We've seen a few better deals in the past, especially during sitewide eBay sales, but this is still a solid discount, and you can pick it up today.

Need some extra controllers? Those are marked down to $40 as well, in a variety of colors.
---
If you still haven't picked up a PlayStation VR kit, I don't think we've ever seen a better deal than this one. Just $250 gets you the headset, two Move controllers, the camera, and a copy of Skyrim. That's $100 less than the usual price on this bundle. Just remember, the arrow in your knee isn't real, you can still be an adventurer.
---
With Xbox Game Pass, Microsoft basically created the Netflix of video games, and it's a great deal at its usual $10 per month. But to celebrate E3, you can get a six month membership card for just $30, which grants you access to new releases like State of Decay 2 and Sea of Thieves, as well as classics like KOTOR and all of the Gear of War games. The best part of this deal? It'll also work if you're an existing member.
---
God of War | $50 | Amazon
God of War is pretty spectacular, and if you still haven't grabbed a copy for your PS4, Amazon's marked the game down to $50. So what are you still doing here?
---
8Bitdo's retro gaming controllers have taken off like Mario with a cape feather seemingly overnight, and Amazon has the best deal we've seen on the SNES-aping SN30 today.

These controllers can pair over Bluetooth to your PC, Mac, Android device, and yes, even your Nintendo Switch. Luke Plunkett over at Kotaku is a big fan, and you can read his full review here, if you're on the fence.
$46 is about $4 less than usual, so it's not a huge discount, but it is the best deal we've seen so far.
---
Microsoft's E3 sales are starting to roll out, with some of the best prices we've seen on a ton of popular games. There are too many deals to list here, but head over to this post where we're collecting them all
---
The clock has reset on Humble Monthly, and this month's early access games are WWII strategy simHearts of Iron IV, the offspring of Minecraft and ZeldaPortal Knights, and the hilariousBlackwake.


As always, Humble Monthly is only $12 per month (or less if you prepay for longer time periods), and includes a cache of PC games each month, plus 10% off in the Humble Store, and extra benefits on certain Humble Bundles. The best part? Even if you cancel your membership, every game you add to your Steam library is yours to keep.

So if you sign up now, you'll get those three games immediately, plus a bunch of others when the month unlocks in early July, all for $12.
TECH
HOME
LIFESTYLE
MEDIA
GAMING