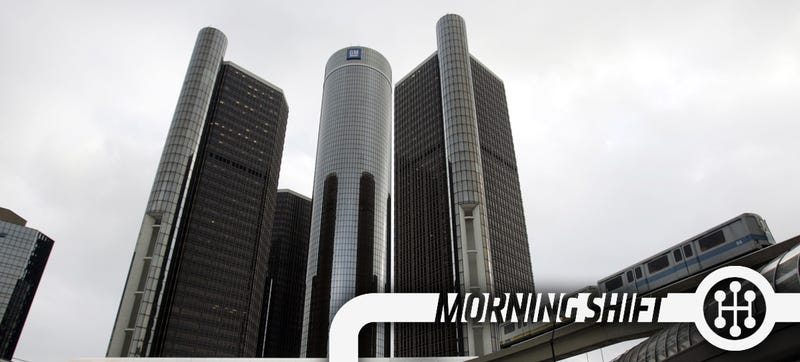 Good Morning! Welcome to The Morning Shift, your roundup of the auto news you crave, all in one place every weekday morning. Here are the important stories you need to know.
1st Gear: GM To Face Trial After All
It seemed as though General Motors escaped 2015 relatively unscathed over the deadly ignition switch fiasco, paying $900 million and $594 million to victims—but with no criminal prosecutions.
Now at least one lawsuit will face a jury trial after all in just a few weeks, and it serves as a "bellweather" for similar cases. GM tried to avert this from going to trial, but a judge yesterday rejected the automaker's bid to dismiss the case. Via Reuters:
U.S. District Judge Jesse Furman in Manhattan said the plaintiff, Robert Scheuer, presented enough evidence to justify letting a jury decide whether an alleged ignition-switch defect in his 2003 Saturn Ion caused or enhanced his injuries from a 2014 crash.

Furman also refused to accept GM's argument that Scheuer's claims arising solely from the Detroit-based automaker's conduct following its 2009 bankruptcy failed as a matter of law. These claims included GM's alleged failure to properly warn Scheuer about the defect, and were the only claims that could expose GM to punitive damages, the judge wrote.
Why it's important:
Bellwether trials are sometimes used in product liability litigation in which hundreds or thousands of people have similar claims. The outcomes can help parties determine whether to keep litigating or to settle. Six bellwether trials are scheduled in the GM litigation for 2016, court records show.

Furman's decision "paves the way for the jury to have an unfettered and full view of GM's behavior in covering up this defect," Scheuer's lawyer Bob Hilliard said in a statement.
2nd Gear: The 'Most Satisfying' Cars On Consumer Reports' List Are Mostly Enthusiast Cars
What cars do people find "most satisfying"? The fun ones, it turns out. As the Detroit Free Press reports, the most satisfying cars on Consumer Reports' latest owner survey are:
1. Tesla Model S

2. Chevrolet Corvette

3. Porsche Cayman

4. Porsche Macan

5. Porsche 911

6. Acura MDX

7. Ford Mustang

8. BMW 2 Series

9. Subaru Outback

10. Volkswagen Golf
Solid choices, all. The MDX is probably the most boring on that list and even it is pretty decent.
The least satisfying cars? The Kia Rio, Fiat 500L, Jeep Compass/Patriot and a bunch of Nissans. Of course.
3rd Gear: Can The New Chevy Malibu Compete?
Success against the Toyota Camry, Honda Accord and Ford Fusion have long eluded the Chevrolet Malibu, much to GM's consternation. It's pretty much the last in the midsize sedan segment.
Chevy's hoping that could change with the all-new 2016 Malibu, a more attractive car that the automaker says has the edge by being packed with tech. Via The Detroit News:
Assuming consumers warm up to the new Malibu look, they will also be pleasantly surprised by the way the car drives, its raft of safety features and its infotainment technology suite.

The latter is arguably the most important and hotly contended element in terms of sales appeal for the Malibu, and its many rivals. Chevy has stolen at least a temporary march over the competition with its 4G LTE Wi-Fi hotspot connectivity, plus use of Apple Car Play, Android Auto, wireless charging and related features. All these elements are hot buttons for today's tech savvy, 'keep me connected' buyers, but it can be argued that Chevy's conservative approach to enabling these features could undermine their appeal.
4th Gear: 2016 Will Be The Year Of Compliance
We saw several crackdowns on automotive finance and lending practices this year, and Automotive News expects that to continue into next year:
Pressure on captives will also keep compliance in the limelight. In 2015, American Honda Finance Corp. settled with the CFPB and Justice Department over charges of unintentional discrimination. Regulators are investigating the finance arms of Nissan and Toyota. Charges could come in 2016.

As regulators continue to put lending practices under a microscope in 2016, auto lenders will probably keep a watch on compliance tactics within dealerships' F&I offices.
If they're cracking down on this kind of shit, then good.
5th Gear: What The Hell Is Faraday Future?
As our own Justin Westbrook pointed out today, the Las Vegas CES tech expo is now basically an auto show. And the most anticipated and enigmatic reveal at the show is going to be Faraday Future, touted as a "Tesla fighter" flush with Chinese money. Here's USA Today on the latest with the company:
Not much is known about Faraday beyond that it is backed by Chinese billionaire Jia Yeuting, CEO of Web video service Leshi TV, and has amassed about 400 employees. The company recently brokered a billion-dollar tax incentive-laden deal with Nevada legislators that will see Faraday's first manufacturing plant pop up in the desert just north of Las Vegas.

"We plan to revolutionize the automobile industry by creating an integrated, intelligent mobility system that protects the Earth and improves the living environment of mankind," Yueting wrote in a proposal letter to state politicians.

Faraday says it plans to begin producing cars by 2017. Some industry watchers have mused whether the company is a front for Apple, which is rumored to be getting into the auto business. Nevada's Faraday factory score is yet another coup for the state, which had secured a commitment from Tesla to build its Gigafactory battery plant just outside Sparks.
That should be interesting.
Reverse: The Dearborn Independent
http://www.history.com/this-day-in-hi…
Neutral: New Year's Eve Free Zone
Talk about whatever you want.
---
Contact the author at patrick@jalopnik.com.