Best Gaming Deals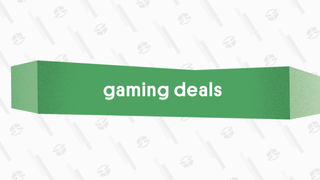 Best Gaming Deals
The best deals on games, consoles, and gaming accessories from around the web, updated daily.
Featured Deal: Super Mario Maker 2 | $40
These are the best Nintendo Switch deals for July 2020.

You don't have to spend a bundle to ensure gaming fun all summer. Right now, loads of great Switch games are on sale, including Super Mario Maker 2, BioShock Collection, Mortal Kombat 11, New Super Mario Bros. U Deluxe, and more.
It's also high time to grab a new controller, handheld grip, or accessory pack, and you'll find all of those and more below in our roundup of today's best Nintendo Switch deals. Jump on these bargains while they last!
Think you've the skills to out-build the likes of Mario creator Shigeru Miyamoto and other Nintendo legends? Prove it with Super Mario Maker 2 on Switch.

G/O Media may get a commission
This expanded sequel doesn't deviate too much from the Wii U original, giving you easy-to-use tools to create and share your own inventive, potentially devious 2D Mario courses. The toolset is bigger now, however, as is the fun. Snag it for $20 off right now.
Big games on a little screen! 2K Games recently ported three of its top franchises from other consoles and PC to the Switch in content packed bundles, and they're already discounted at Amazon.

The BioShock Collection gives you a trio of bold and distinctive first-person shooter campaigns, while the XCOM 2 Collection gives you the complete version of the critically acclaimed turn-based strategy gem and Borderlands Legendary Collection has a trio of cartoon-stylized, over-the-top, looter-shooter favorites.
Save $10 on any of 'em right now. Note that you'll definitely need a microSD card for these, as all three require a significant download to access the entire game.
If you're not keen on building your own levels, why not trust the experts and play the real deal? New Super Mario Bros. U Deluxe is an updated rendition of the Wii U original, delivering a classic-feeling side-scrolling Mario game with modern graphics.

You can play with up to four players, plus the Switch version has extra accessibility features to help younger players start playing quickly. It's $20 off right now.
If you ask most die-hard Super Smash Bros. players, they'll swear that Nintendo's original GameCube controller from 2001 is the best way to play the game. Luckily, you can still get that experience on the Switch today.

PDP's officially-licensed wired Switch controller keeps the same look and feel of the original, and is great whether you're playing Smash or something else entirely. Right now, this Mario-themed edition is $10 off the regular price, but Amazon has several other designs at various prices.
Hit the court in Mario Tennis Aces, the latest and greatest entry in Nintendo's long-running, arcade-style sports bonanza.

While the basics haven't really changed, this version introduces super-powered special shots, plus there's a single-player story mode complete with missions and boss battles. It's $20 off the regular price right now.
"Get over here!" Actually, you know what? Stay where you are: with the Switch, you can play Mortal Kombat 11 wherever you please. That's your decision.

The Switch rendition is just as feature-rich and entertaining as those on more powerful platforms, and right now this 2019 fighter is down significantly from its original $60 launch price, and about $10 off the usual going rate these days.
Alternatively, snag the new Mortal Kombat 11: Aftermath Kollection to get the game and all of the extra add-on characters bundled with. It's currently $40, down 33% from list.
Dragon Ball FighterZ is one of the most dynamic and celebrated fighting games of the last few years, breaking the licensed game curse and delivering on both fan service and fighting mechanics.

Luckily—and amazingly—it's just as awesome on Switch, still delivering stellar graphics, loads of fighters, and the added bonus of portability. It's half-off right now at Amazon.
Have you seen The Witcher on Netflix? Now you can experience that fantasy world on Switch with The Witcher 3: Wild Hunt.

Recently ported to Switch with all of the bonus content bundled in, The Witcher 3 is one of the most critically-acclaimed role-playing adventures of all time. It's an enormous, open-world epic that you can surely sink months into, if you please. It's $10 off right now.
Square Enix's Collection of Mana brings together a trio of retro role-playing gems, including the Game Boy's Final Fantasy Adventure and the Super Nintendo's beloved Secret of Mana.

The third game, Trials of Mana, was never released in North America before this, so it's a perfect opportunity to catch up on a couple old faves while experiencing the long-awaited debut of another SNES classic. The set is $14 off right now.
Here's a third-party accessory that many fans consider an essential part of the portable Switch experience: the Satisfye Pro Grip.
This large peripheral hugs the original Switch console and provides you comfortable grips for a more ergonomic play experience, plus it has optional thumbstick toppers to help with aiming. The Satisfye Pro Grip has a 4.8-star rating on Amazon with nearly 1,700 customer reviews as of this writing, and it's 17% off the list price.
This bundle has just about everything you could possibly need for the Nintendo Switch Lite, the smaller, handheld-only version of the console.
It has a carrying case for the system itself, a comfort grip attachment, two tempered glass screen protectors, an earbud headset, an extra USB-C cable, cartridge carrying cases, analog stick toppers, and a stylus. It's down from the $50 list price right now.
Looking for one game that could potentially last you throughout the entire pandemic quarantine? Look no further than Sid Meier's Civilization VI, the latest entry in the life-consuming strategy franchise, in which you build up a civilization that can last through the ages.

It's $45 off right now at Amazon, amazingly enough. If this sounds even remotely interesting, then that's a deal you can't pass up.
---