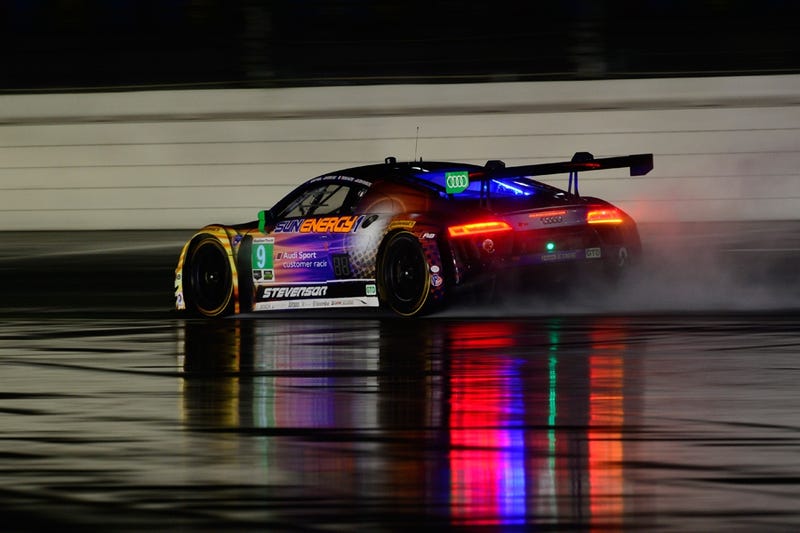 The Rolex 24 at Daytona weekend is upon us, and a lot of hours means a lot of race coverage. But do not fret, and do not be overwhelmed. We've taken your watching options and put them in a neat, organized fashion. How kind of us.
The IMSA WeatherTech SportsCar Championship begins its season with the 24-hour event, and those participating go all out with the streams and coverage. This year will be even more of a spectacle, too—the new Ford GT, Ferrari 488 and the BMW M6 will all take to the track to show us what they can do.
With so many cars—and hours—it can be tough to decide both how to follow and which cars to pay attention to during the race. But we're here to help.
http://blackflag.jalopnik.com/the-24-hours-o…
If you know of any other streams or updates for the Rolex 24, let us know in the comments and we'll be sure to add it to the list. Happy endurance racing, folks. Welcome to the 2016 race season.

---
Television Schedule
Less than two days after the Rolex 24 occurs, IMSA will make the broadcast available on both its website and YouTube. International markets can watch the IMSA.TV live stream.
Saturday
2 p.m. — Coverage until 4 p.m. on Fox Sports 1
4 p.m. — Coverage switches over until 10 p.m. on Fox Sports 2
10 p.m. — Coverage switches over until 7 a.m. on IMSA.TV
Sunday
7 a.m. — Coverage until 10:30 a.m. on Fox Sports 1
10:30 a.m. — Coverage switches over until 1 p.m. on Fox Sports 2
1 p.m. — Coverage switches over until 3 p.m. on Fox Sports 1
---
Live Streams, In-Car Cameras
Get all of your devices up and running, and watch these 24 hours on 24 screens. OK, that may be a few too many screens. But if you want to use more than one, there are some options for secondary live streams.
Just as promised for the actual event, here is the YouTube upload of Friday's qualifying session if you missed it:
The No. 911 Porsche 911 RSR of Nick Tandy, Patrick Pilet and Kevin Estre is on the overall pole for the event, and full qualifying results can be found here.
IMSA.TV will carry in-car cameras, and the famously hilarious Magnus Racing live stream will begin at 2 p.m. ET:
Timing And Scoring Updates, Ways To Follow On Mobile
IMSA.TV will begin streaming portions of the Rolex 24 at 2:40 p.m. ET. If you don't have wifi and want to avoid using up all of your data, live timing and scoring from Daytona International Speedway can be found here.
Radio Broadcasts
IMSA Radio will carry the broadcast online. If you're out and about, Sirius XM radio broadcasts include Sirius 145, XM 203 and Sirius XM Online 967.
---
Image via IMSA
Contact the author at alanis.king@jalopnik.com.