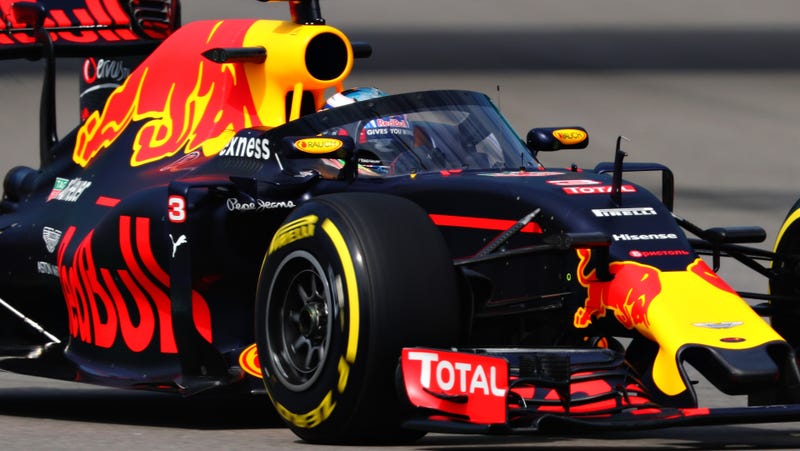 Formula One is approaching its self-imposed deadline to make the halo cockpit sorta-protection system viable for 2018, but wait! F1 has another idea! I'm sure much waffling will be done over it as the cockpit remains as-is, with nothing protecting a driver from getting hit in the helmet.

F1 drivers at the Chinese Grand Prix were shown an outline for "the shield:" a new cockpit solution that Force India driver Esteban Ocon described to Crash.net as such:
It's a different version [to the aeroscreen], it's still just a drawing at the moment. They know how they can produce it, but at the moment there will be a lot of improvements coming. It's still in the design process, what they've shown is that it comes from further in the front nose to a lower bit, it's not going straight away up to 90 degrees, basically it comes gently. It's almost like a closed cockpit car but it doesn't close.
While that drawing hasn't been shared publicly, think of Red Bull aeroscreen concept but with a less steep windshield. Motorsport.com described the shield as more aesthetically pleasing than the halo. Admittedly, that isn't saying much, as the halo transforms the cars into giant uncomfortable-looking flip-flops that Björk would try wearing to an awards show.

Drivers raised several concerns about the shield, including those regarding visibility (particularly when wet, as its lower angle wouldn't do as good of a job as the aeroscreen at deflecting water), aesthetic concerns, series tradition and strength. Force India driver Nico Hülkenberg, for example, told Crash.net criticized the shield as being a flimsier solution that doesn't protect against heavier loose items on track:

For me we don't necessarily need more head protection, that's my point of view. I think the cars should stay open as a single seater always was. It's a halfway house because the shield doesn't protect from the heavy items such as tyres and stuff. It's smaller and light items, I think we need to question it and see if that's what the drivers or the FIA wants.
What's problematic about the introduction of yet another cockpit protection idea is that the shield hasn't really been tested yet. F1 still only has until 2018 to decide what kind of head protection solution to use.

F1's main deadline for next year's regulations is presumably April 30, when changes to the FIA's technical regulations for F1 only need majority support to pass. After then, any changes have to be unanimously voted in, and everyone knows how unlikely that is in the F1's divided world of big-team haves and small-team have-nots.

The FIA could still mandate a device without teams' approval, but that certainly wouldn't be popular. So, the FIA presenting another idea this late just sounds like another reason to procrastinate for one more year or more when you've still got exposed helmets travelling at even faster speeds than in years past.

Here's an idea: stop postponing the inevitable with these half-baked ideas that no one likes and close the cockpit. Ex-F1 driver Mark Webber even told Red Bull as the company's namesake F1 team was pushing for their aeroscreen to be F1's accepted solution that he feels as if fully-enclosed cockpits will have to happen by 2025.

Why even bother with these silly half-fixes in the meantime? Screw aesthetics. Screw tradition. You know what to do.