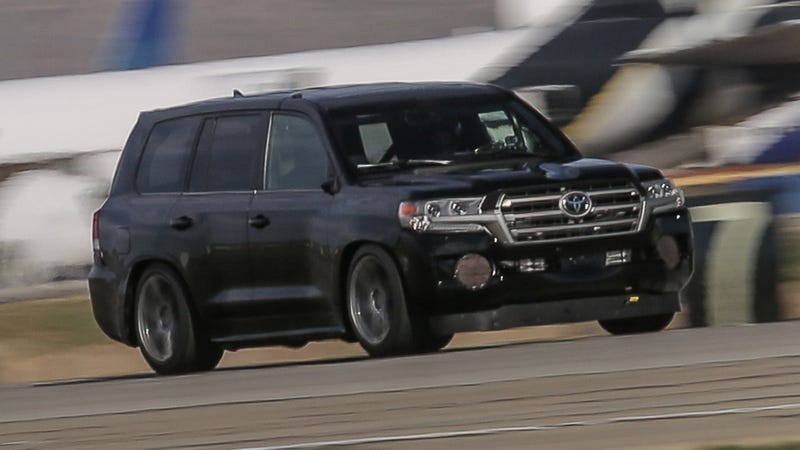 Last year Toyota started making noise about setting a land speed record for SUVs in a Land Cruiser… a solid-axle elephant of a vehicle that weighs close to three tons. It only took a few minor tweaks, like dialing the engine up to 2,000 horsepower, but Toyota snatched a new speed record with a 230.2 mph pass.

Toyota is now officially claiming the title of "World's Fastest SUV", which until this week stood at 211 mph, set by a Brabus-built V12 Mercedes GLK.
Former Toyota NASCAR driver Carl Edwards took this skunkworks Land Cruiser for a few laps across the open runway at the Mojave Air and Space Port in Mojave, California and ramped up to a GPS-confirmed 230.2 mph.
The Cruiser runs its regular U.S.-market 5.7-liter 3UR-FE V8, saddled with a pair of "volleyball-sized Garrett turbochargers that are capable of producing up to 55 psi of boost," according to Toyota.

Stronger pistons, rods and a redesigned intake manifold were also installed, "among other key items" to allow the engine to generate what Toyota's claiming was "over 2,000 horsepower" without exploding.
The transmission was completely custom, but the stock wooden steering wheel was left in place.
In order to cope with the massive amount of wind resistance the brick-shaped Land Cruiser was going to be catching at these speeds, the SUV's frame was reshaped to optimize suspension geometry at a lower ride height, and the whole thing was narrowed by three inches to fit some massive Michelin Pilot Super Sport tires.
Back in November of last year when this "Land Speed Cruiser" made its show debut, Toyota UK provided a little more background on how the truck came together.
What will become of this hilarious frankentruck now that the record's been set remains to be seen. I hope some dude in Dubai buys it and uses it as a daily driver.