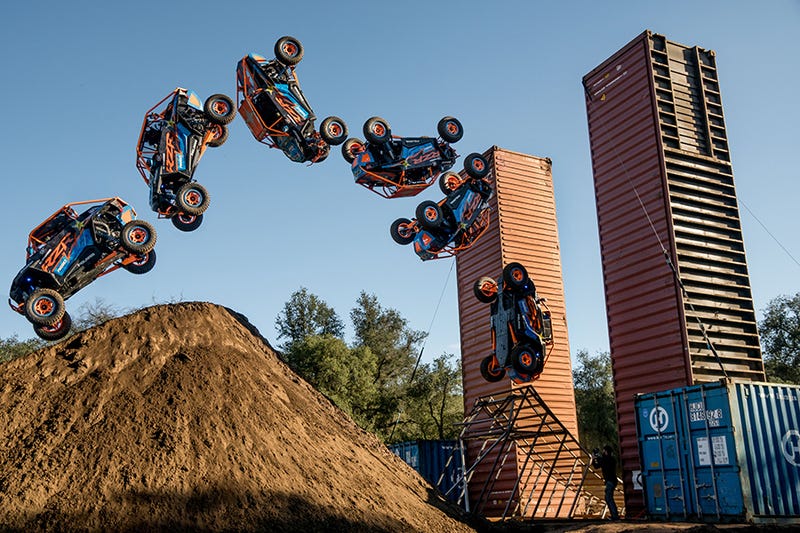 XP1K4 is the fourth installment of an insane stunt series featuring a heavily modified UTV and RJ Anderson, quite possibly the best and bravest person driving these jacked-up farm buggies right now. The whole video's nuts, but the backflip will straight blow your brain up.
Don't skip the intro because you'll miss a sweet CGI Transformers-y assembly scene that somebody clearly spent a lot of time animating. The bump-jumps look painful at 1:45, the rail grind at 2:10 has the UTV acting like a big ol' skateboard, then that wall of death scene at 3:00!?
But the backflip! Just… Wow. How? Imagine the talent and confidence it'd take, never mind the horsepower, to pull that off. Actually, we don't have to imagine it. We can watch it!
The producers at Mad Media say XP1K4 was shot east of San Diego, with a 168-horsepower Polaris RZR XP Turbo EPS. It's sitting on 30-inch tires, 2.5-inch shocks and a long list of sponsored products you'll see shouted out at the end of the video.
I even like the orange-on-blue livery. Very Hot Wheels.

Many people are pointing to UTVs as the future of off-road because they're so incredibly capable fresh off a showroom floor, but the aftermarket is exploding and snowballing the popularity of these things even further.
UTVs may not be as refined or versatile as a Jeep, but they sure can take a beating. Plus, no amount of modifications could make a Wrangler drive vertically or survive backflips.