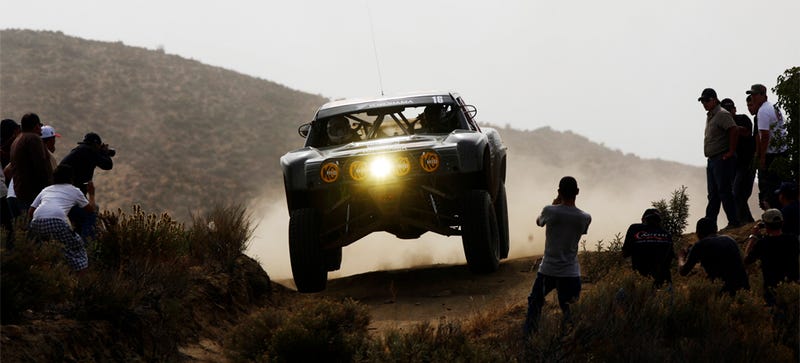 One of the worst things about being a desert racing fan; events are tough to spectate. Even if you slog to the backcountry it's impossible to keep track of action across a 1,000 mile course. These races still don't get much TV airtime, but now it looks like there's an even better place to watch off-road awesomeness.
SCORE International, the sanctioning body that puts together the Baja 1000 and a few other events, now has a dedicated channel on a video site called CarbonTV.
Click there and you can watch long broadcasts from events all over the American Southwest and Mexico in great resolution for free!
Yes, there are commercials. Somebody's got to pay for the bossman's lap dances. But they're no worse than what's on YouTube. There's a mix of episodes that cover entire races (they last about 45 minutes) and quick three-minute clips about specific racers or vehicles.
Expect some goofy overly-dramatic voiceovers, but the few episodes I scrubbed through seemed to do a pretty good job of engaging the uninitiated. That is to say; you don't have to be a hardcore fan to enjoy. (But it never hurts!)
I know how I'm killing my long weekend!
The downside is, of course, it's not live. What you're seeing is SCORE's CBS Sports Network broadcasts 60 days after they air on television. For 2016 they'll have all five races of the SCORE World Desert Championship:
30th SCORE San Felipe 250, Feb. 25-28, San Felipe, Mexico

2nd SCORE Baja Sur 500, April 14-17, La Paz, Mexico

48th SCORE Baja 500, June 1-5, Ensenada Mexico

SCORE Desert Challenge, presented by Rosarito Beach, Sept. 14-18, Rosarito Beach, Mexico

49th SCORE Baja 1000, Nov.16-20, Ensenada, Mexico
The TV airing will be a few weeks after each event, then these will be online two months after that.
For those of us who don't have TVs and want a pretty cool perspective of some amazing races, this channel looks like a solid way to spend some time.
Image via AP
---
Contact the author at andrew@jalopnik.com.