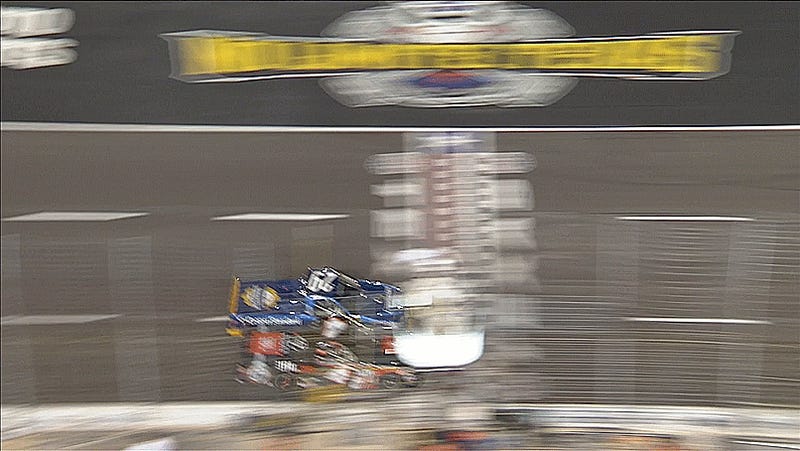 Tonight's NASCAR Camping World Trucks Series race at Texas Motor Speedway ended in total chaos one lap earlier than expected as a big wreck sent Timothy Peters spinning on his roof. Meanwhile, still on track, they had to figure out who was ahead when the now-race-ending caution flag was dropped for the crash.

The field was already under a restart when Austin Wayne Self lost control of his truck and sent Peters flipping across the infield. With one lap to go when Peters' big crash happened, it was too close to the end to call another restart.

NASCAR determined the winner to be not who crossed the start finish line for the last lap first, but who was ahead when the (ultimately race-ending) caution flag was dropped. The clean-up needed for the crash was too big to restart without a major delay for just one lap, anyway.

So, while Chase Briscoe crossed the finish line first to start the last lap as the white flag was waving, Christopher Bell was just barely ahead of Briscoe when the race was paused (and ultimately stopped) for Peters' big crash, and thus, Bell was declared the winner.

To add even more confusion to the ending, the flashing lights on Texas Motor Speedway's catch fence that come on during cautions are on a brief delay compared to the official systems that light up for caution flags on track, causing some to be rather confused as to who actually won:

Briscoe races for the Brad Keselowski Racing team, so Keselowski was understandably irritated by this complicated call.

It was so confusing that NASCAR vice president of competition Steve O'Donnell felt the need to tweet out a screencap of the precise moment they used to make the call on the winner, which was apparently not shown on TV:

Bless your hearts, NASCAR. That's almost as big of a mess as what happened on track.

Austin Wayne Self Messed With Texas, Got Bit Hard