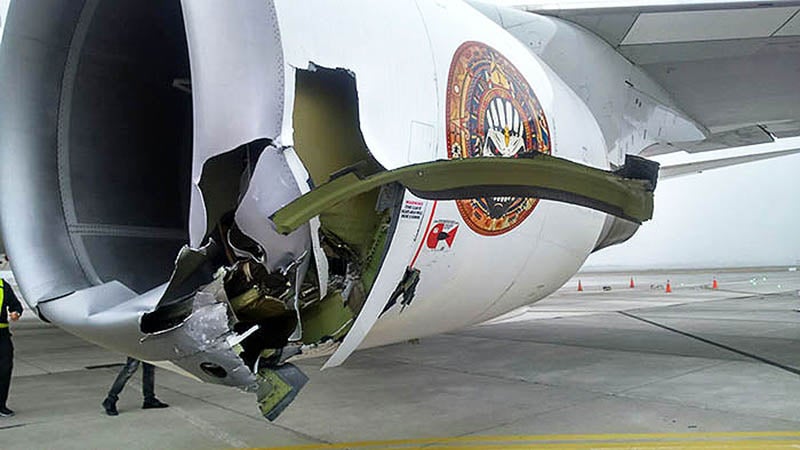 The music and the aviation worlds were wowed recently by the iconic metal band Iron Maiden's unveiling of their tour plane, a 747-400 with their name blazed across it. Sadly, less than a month later, and early in Iron Maiden's tour, the jumbo jet has been badly damaged in a ground mishap in Chile.
http://jalopnik.com/check-out-iron…
The damage was apparently caused by a tug that broke loose, here is how the band explained it on their official website:
"Ed Force One was this morning tethered to a tow truck to be taken for refueling prior to flying over the Andes to Cordoba for the next show. On moving the steering pin that is part of the mechanism that connects the ground tug to the aircraft seemingly fell out. On making a turn the aircraft had no steering and collided with the ground tug badly damaging the undercarriage, two of the aircrafts engines and injuring two ground tug operators, both of whom have been taken to hospital. We hope of course that they make a full and speedy recovery and we will be closely monitoring their progress. The flight engineers are on site and evaluating the damage, but their initial report is that the engines have suffered large damage and will require an extended period of maintenance and possibly two new engines."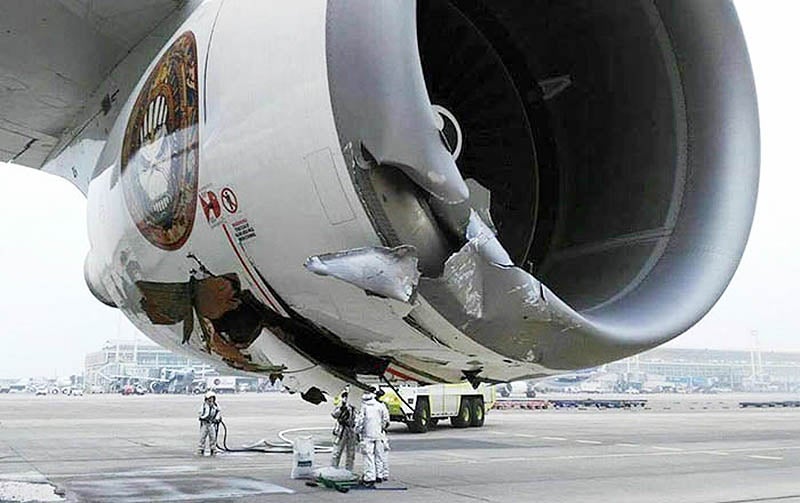 As you can probably imagine by the statement and these photos, the damage was severe and will cost many millions of dollars to fix. Luckily nobody died in the event.
Dubbed "Ed Force One" by fans via an online naming contest, the jet is piloted by lead singer Bruce Dickinson who has been a pilot for decades and even worked for an airline for a period of time. The aircraft itself is an ex-Air France 747-400 that was reconfigured by the cargo jet masters at Russian-owned Volga Dnepr Airlines to accommodate the Iron Maiden tour team and their 20 tons of stage gear.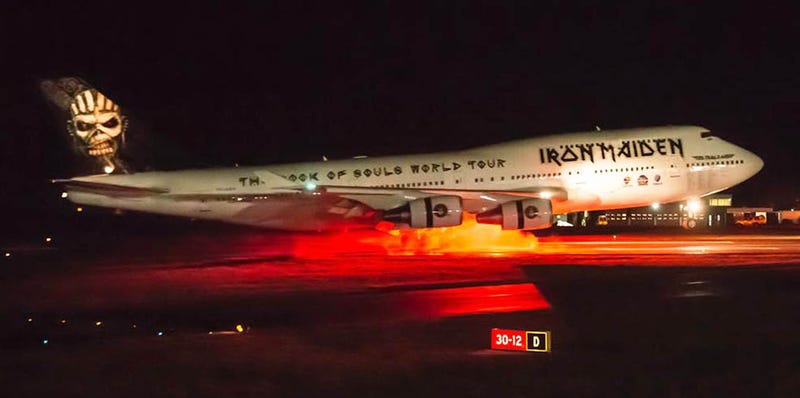 The band says their tour will go on as planned and they are looking for a new jet while "Ed" is being fixed. They also had some good news about those involved in the accident:

"We are happy to tell our fans in Cordoba that our Killer Krew has sorted out all logistics for us to be there with our full show for you all tomorrow. We expect no disruption to the tour in any way and are looking for a replacement 747 Ed Force One while our current beauty is healed. More news on that later. Until then, believe me, we will get to you all on this tour one way or another wherever you are.

We are also delighted to say that we have been officially informed that the two Chilean airport staff who were injured following the malfunction of the tow truck connecting bolt will make a complete recovery. Best wishes to them and their families."
---
Contact the author at Tyler@jalopnik.com.