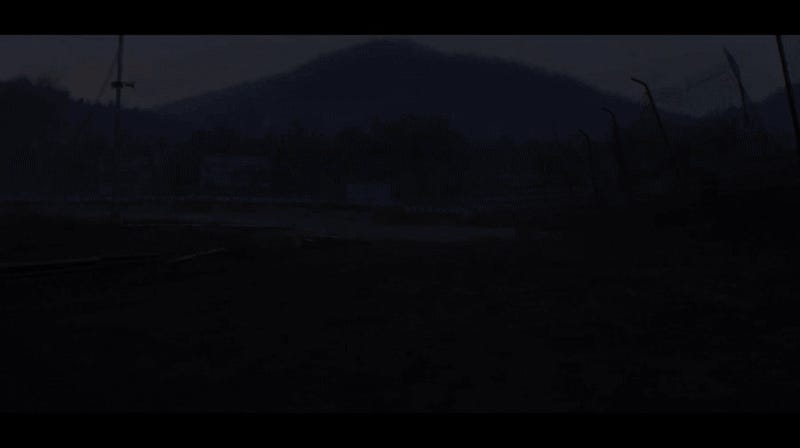 From what we've seen in trailers, Cars 3 is all about the future of racing. The new kids are fast, Lightning McQueen doesn't understand their "digital racing simulations," and he's got a big wreck to recover from. But the movie will also have a token to the past, with Lightning visiting an abandoned ghost track.
Does that give you chills? That should give you chills.
American ghost tracks are the remains of old race tracks, both local short tracks and major facilities like NASCAR's former North Wilkesboro Speedway and Texas World Speedway, that eventually closed and were left to rot and crumble.
There are estimated to be hundreds of ghost tracks in the U.S. alone, and some are so deteriorated that they're hard to find on a map. One such abandoned track lies in the shadow of Austin's shiny, new Circuit of The Americas—kind of like the comparison between old and new in the new Cars movie.
Ghost tracks are a chilling sight, but an important reminder of what can happen when the crowds stop coming to watch such an expensive-to-maintain sport play out.
The ghost track in Cars 3, according to Autoweek, isn't real. The creators call it Thomasville Speedway, an old, foggy dirt track that looks chillingly like a lot of abandoned short tracks across the country: fences caving in, grassy overgrowth and a slowly deteriorating racing surface. What a beautiful, beautiful idea this is.
There's a reason the idea turned out so realistically, even in an animated movie. While the ghost track in the movie isn't real, the inspiration and research that went into its creation was. From Autoweek:
"Research-wise, we went head-deep into the history of NASCAR," "Cars 3" director Brian Fee told us during a recent visit we had at Pixar. "The history was great, you know — that's where the juice was, that's where the emotion was, looking at ghost tracks." …


When the team was researching "Cars 3," they included on-site visits to abandoned racetracks from NASCAR's past, including North Wilkesboro and Occoneechee Speedway, both of which were part of the championship when the series started in 1949. Both are located in North Carolina. North Wilkesboro stayed open until 1996, then reopened briefly in 2010 and 2011. Occoneechee closed in 1968.
And just listen to how Fee described his visit to North Wilkesboro to Autoweek:
"It's haunting," he said. "It's haunting to walk out onto the track and look at the 'North Wilkesboro' signs that still had 'Winston Cup' graphics; the paint's peeling, you hear nothing but the wind blowing through the fence, which is falling down, and the leader-board advertisement, which is just 'Winston Cup,' was just turning, 'Squeak, squeak.' It reminded me of the Colosseum. You're looking around and you're thinking, 'This is dead right now, but it was once packed to the gills and loud and events happened here. It would give you (goose bumps) on your arms."
Ghost tracks will do that to you.
Autoweek has a couple of concept drawings of Lightning's visit to Thomasville Speedway, if you'd like to see more of the envisioned track. It looks incredibly well done, and hopefully the movie creators will give the abandoned track more than just a few seconds of time on the big screen.