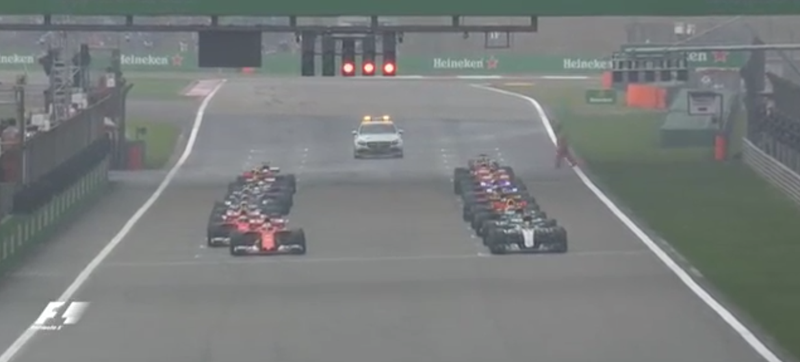 Sebastian Vettel was under investigation by the race stewards for not lining up all the way into his starting location. His Ferrari was started from second position on the front row, but he didn't quite line up into his boxed-off spot. Um, was this intentional, or did Seb party a bit too hard last night?

No action was ultimately taken against Vettel for the bizarre mishap, but it's extremely unusual to see the current championship points leader so far out of his starting position, which is clearly marked by lines painted on the circuit's surface. Parking outside the lines is BMW's schtick, not Ferrari's!

Is there more grip off of that starting box? Surely there is, as the usual lines on a track have far less grip in wet conditions than the rougher, less rubbered-in pavement off-line. Will people now start their cars offset like this to get a better start on wet races since Vettel got away with it?

I have so many questions! Sebastian, explain yourself immediately.

The moisture hasn't just caused Vettel to start weirdly off-line. Changing conditions are making things interesting, if we'd just get a good length of green flag race time. Williams' young rookie Lance Stroll was tagged on the inside and bumped off track by Force India's Sergio Perez on the first lap, bringing out the virtual safety car for the first three laps. Perez was ultimately not penalized for the crash, which stewards wrote off as a regular racing incident.

Sauber's stand-in driver Antonio Giovinazzi then spun out on lap 4 into the pit wall, bringing out a full safety car that is forcing race traffic through the pit lane while crews clean up the main pit straight.
Those who are switching to slick tires are finding little grip in the moist conditions at Shanghai, but could this gamble in drying conditions pay off later? Sure, if you don't pull an Antonio. Fortunately, both drivers who have gone off track have gotten out of their cars under their own power and are okay.

Mercedes' Lewis Hamilton started from pole position and continues to lead the race.