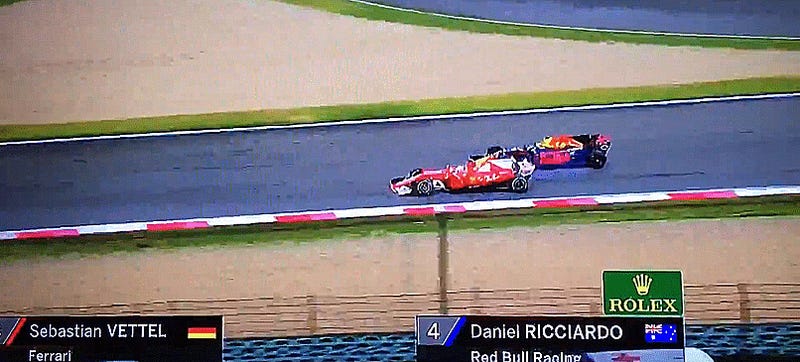 Overtakes in Formula One this year have been few and far between. Fortunately, when they do happen, oh boy, do they ever deliver. Ferrari's Sebastian Vettel just put on a masterclass of crazy, ain't-care passing trying to claw his way back up from a decidedly meh start to his Chinese Grand Prix.

Now if only the 2017 cars were easier to pass so we could get exactly a jillionty billion and two more of these. The drag reduction system that's supposed to aid in overtaking has been hot garbage in really helping drivers pass today—getting them closer as opposed to getting them fully around—but that's also forced drivers to take ballsier moves to try and get ahead. Don't try to make that risky move, and you suffer with the rest of the pain train.

Just look at this ruthless chain of Vettel's passes that happened within minutes of each other.

First, Vettel cut through the inside to get around his Ferrari teammate Kimi Räikkönen. That was a good, clean pass, but a mere teaser of what was to come.

Next up was perhaps the most OOOOOH-worthy Formula One pass I've seen in a long time. Vettel dove around the outside of Red Bull's Daniel Ricciardo and locked up his wheels briefly, and then touched wheel-to-wheel with Daniel Ricciardo as he tried to keep his position ahead. Of course, Vettel was Ricciardo's teammate at Red Bull before he left to drive for Ferrari.

Next in Vettel's warpath was Red Bull's other driver, Max Verstappen, who is a fantastic nut in his own right who had miraculously worked his way up from a sixteenth-place start to second place.

Verstappen locked up his tires as Vettel pressured him from behind, no doubt creating four very uncomfortable flat spots in those larger, wider 2017-spec tires. Verstappen dropped from second to sixth after the lock-up, pitting right afterwards for fresh, round tires. (He has since clawed his way back up to third.)

Whatever Sebastian Vettel is doing to go on such a good charge here, can F1 do more of it? Maybe figure out how to clone him? Spec Vettel might be the series to watch.

Other elements of this race have been more predictable, however, as things have calmed down a tad after the track dried more. Both McLarens have had mechanical issues, with drivers Fernando Alonso and Stoffel Vandoorne having to retire before the end of the race. The McLaren-Honda nightmare continues.

Update: One more predictable thing about this race? Lewis Hamilton led the entire time off of pole position, driving home to an easy win.