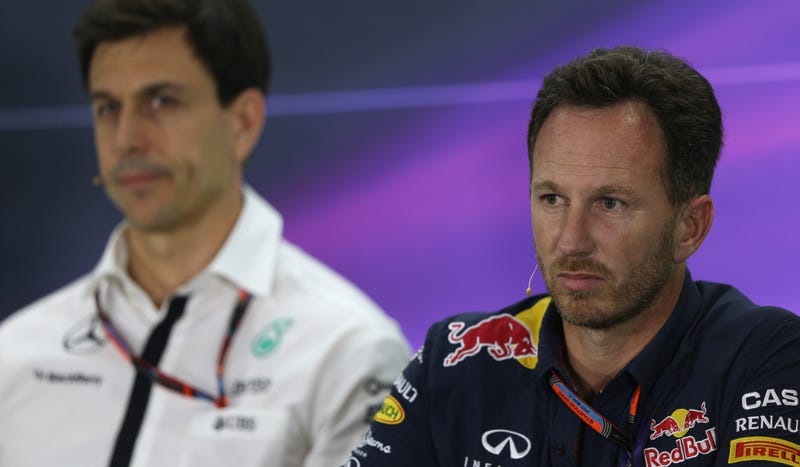 Red Bull Racing Team Principal Christian Horner is quite annoyed that his team isn't dominating Formula One anymo—err, um, that Mercedes winning race after race has made the sport too predictable. It's funny what happens when the shoe's on the other foot.
Horner would like to point out that there's more nuance to what he's saying than that, of course.

Horner told Autosport:

Predictable, serial results and serial winning is difficult for any sport.

We were accused of it, but we enjoyed the continued success and longevity of the sport.

Two of our world championships went to the last race, and we never finished first and second in a championship.

Inevitably, with predictability, people get turned off and it needs a rejig to bring it closer together.

I don't think anyone wants to see Fernando Alonso just taking part, we want to see him competing.

We want to see Daniel Ricciardo competing, and we want to see Sebastian Vettel competing against Lewis Hamilton and Nico Rosberg.
Okay, fair point. I want to chuckle at the fact that a man whose team won four consecutive championships from 2010 to 2013 is complaining about no longer being on top, but that era did have slightly less predictable racing. Autosport notes that Mercedes has won 16 of the 19 grands prix for the past two years.

While it's easy to see the self-interest shining through in Horner's comments—he'd rather have Red Bull on top of the standings again, and who can blame him for that?—it's the fact that every team is looking out for themselves that Horner (correctly) singles out as part of the problem. Horner continued to Autosport:

You can't expect the teams to achieve that, that's for the regulator and the governing body to come up with a set of rules that achieve those objectives.
Sure, Mercedes wouldn't give Red Bull a power unit for 2016 after proving that they're the one to have this year, and the F1 Strategy Group in charge of key decisions for the sport wouldn't cut Red Bull a break in regards to their faulty engine woes earlier this year. The Strategy Group consists of the five major teams in F1 including Red Bull and Mercedes, plus the next highest-placing team in the standings. Thus, Horner calling out the self-serving nature of F1's teams is effectively a self-serving move in its own right.

But he's right, to some extent: the leadership needs to be able to take a more active role if they ever hope to move past team gridlock and make meaningful improvements to the sport—even if those changes are unpopular with Mercedes or Ferrari. Horner elaborated:

It is vitally important, so we need strong leadership from the commercial rights holders and the governing body to plot a path for the future that addresses what the fans need and what the fans want to see.

Without them, there is no Formula 1 that ultimately has to be a show, has to be entertainment, and it has to appeal to a broad spectrum of fans and spectators.
That being said, there isn't much that anyone can do about next year's rules at this point. Horner even said he thinks Mercedes will dominate more next year.
Somebody get the world's smallest violin. Poor Christian Horner. Poor Red Bull. Let us mope together that another team surpassed Red Bull's dominance in F1.

Photo credit: Getty Images
---
Contact the author at stef.schrader@jalopnik.com.