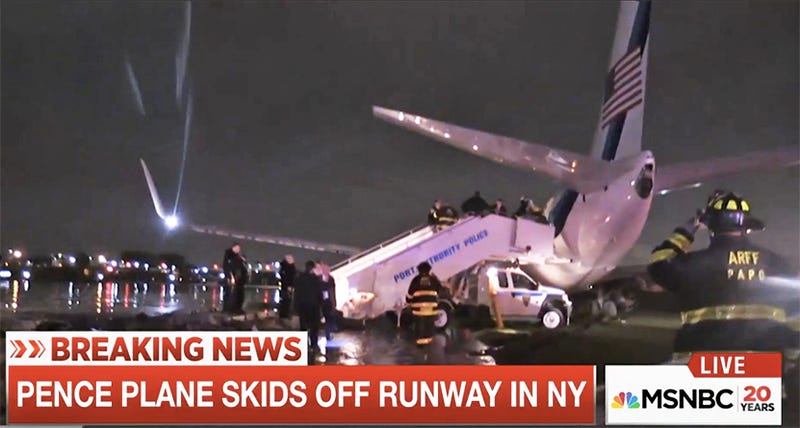 Indiana Governor and Republican Vice Presidential nominee Mike Pence's campaign jet skidded off a runway tonight at LaGuardia Airport after landing.

Nobody was injured and NBC reports that Pence was coming to New York City from Iowa for an event at Trump Tower. Apparently, the governor is now skipping that event, but has tweeted that he and the rest of the delegation on the jet are okay after the incident.
"[Republican presidential candidate] Mr. Trump did reach out to Governor Pence and is very glad everyone on board the plane is safe," the campaign said in a statement according to NBC and other news outlets.
Governor Pence's wife, daughter, some staff and journalists were said to be onboard the plane.
During the campaign, Pence and company have been flying around in a Boeing 737-700 that used to belong to the now-defunct airline Eastern Airlines according to USA Today. You aviation nerds might recognize the remnants of Eastern livery on the jet's fuselage.
(Update:)Eastern folded in 1991, which made me think this was an old jet but one our readers corrected the record and reminded me that the company was revived! So the 737 is probably just on loan. A new one in this variant goes for about $80 million.
From the images and local news video we've seen of the jet post-incident, the aircraft does not appear to be seriously damaged. It remains unclear whether a mechanical issue, weather conditions, pilot error or some combination of factors caused the plane to slide into the grass. It rained heavily in New York today and it could have made the runway slippery.
We'll update when more details come to light.