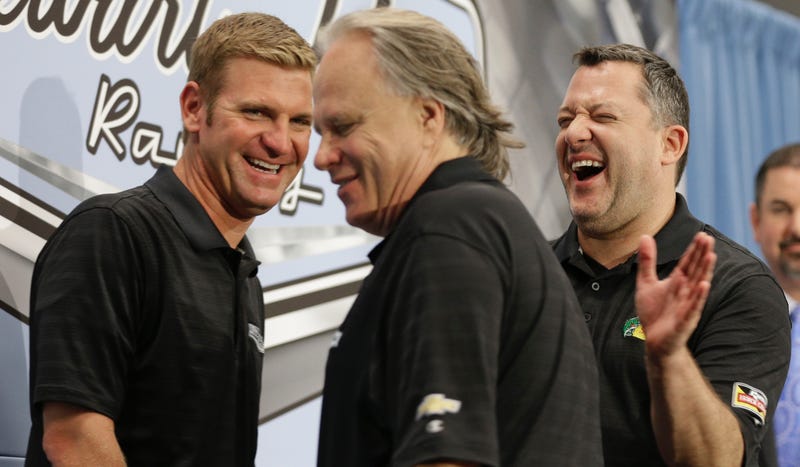 In a surprising move this week, NASCAR Sprint Cup Series powerhouse Stewart-Haas Racing announced that they were moving from campaigning Chevrolets to Fords for 2017. Naturally, some NASCAR fans are coping with this news better than others.

Why is this switch such a big deal? Stewart-Haas' four-car effort has traditionally worked very, very closely with fellow Chevrolet team Hendrick Motorsports. Now, Stewart-Haas wants to become more self-sufficient. Team co-owner Tony Stewart explained in a Ford press conference on the move:
We see this as a lot of growth for Stewart-Haas Racing. It's not just changing OEMs, it's a great opportunity for us to kind of get out of the shadows and, to some degree, get off the coattails, to a certain degree, and really get out on our own and I think that's something everybody here at SHR is really excited about and proud that we're finally in a position to do this and branch out in this way.
While Stewart has 20 years of racing GM cars, he also feels as if switching to Ford offered the best opportunity to make a bigger, stronger Stewart-Haas team in the long run.

It may also be worth noting that some of team co-owner Gene Haas' resources are now also going to a Formula One team, and that ain't cheap. Stewart-Haas' increased independence in NASCAR coincides with the Haas F1 team's first season, and the last thing anyone wants to see is a team spread so thin on funding and resources that they produce another one-and-done effort like last year's Nissan LMP1.

Fortunately for Stewart-Haas, a front-running NASCAR team is a relatively easy sell to sponsors, and Stewart's talk of the resources they would gain in moving to Ford makes it sound as if Ford will stay committed to NASCAR for quite some time.

Stewart-Haas will now start building their own chassis in 2017, per USA Today reporter Jeff Gluck. Previously, their engines and chassis had been sourced from Hendrick Motorsports. The cars will be branded as Ford Fusions and feature Ford engines prepared by Roush-Yates Engines.
However, NASCAR fans are often very loyal to one marque over the other. The die-hard American marque fans are particularly passionate, as the idea of replacing our family's Blazer with an Explorer as a kid was…well, we're not sure if this Fix Or Repair Daily thing is going to work out. Add the heated competition of Sprint Cup to that, and you have the perfect storm for impassioned and distraught Tweets to be released into the ether.
While the team downplays the idea that announcing their move to Ford this early will affect this year's Chevrolet-backed effort, some fans also worry that Stewart-Haas' impending departure may affect Hendrick and Chevrolet's support of the team, and thus, their favorite drivers' chances at winning. For fans of Kevin Harvick, Danica Patrick, Kurt Busch, and Tony Stewart's numerous stand-ins, this move to Ford brings a bit of added uncertainty for the short-term.

So, here's a small sampling of NASCAR fans coping with the loss of Stewart-Haas to Ford. Enjoy.

At least one fan wondered if switching alliances in Sprint Cup would affect Stewart's partnerships in other series:

Some took a practical stance on the matter:

Of course, this guy has the most reasonable theory of them all:

The Ford GT is a marvelous unicorn. I'm 100-percent OK with this theory, as I'd like to have one, too.

Either way, if I, Biggest Porsche Dork Known To Man, can handle Magnus Racing's switch from a Porsche to an Audi on the IMSA side, I think we'll all learn to live with Stewart-Haas racing Fords in the Sprint Cup. Some of you will stick with the marque, and others with the team itself. Some may even be okay with either Chevy or Stewart-Haas winning, and that's fine, too. That's fandom.

Photo credit: AP Images

---
Contact the author at stef.schrader@jalopnik.com. Stef's parents still own the "Exploder," which now has more body roll than a dune buggy, but mechanically, just won't die. It's a genuinely terrifying driving experience.