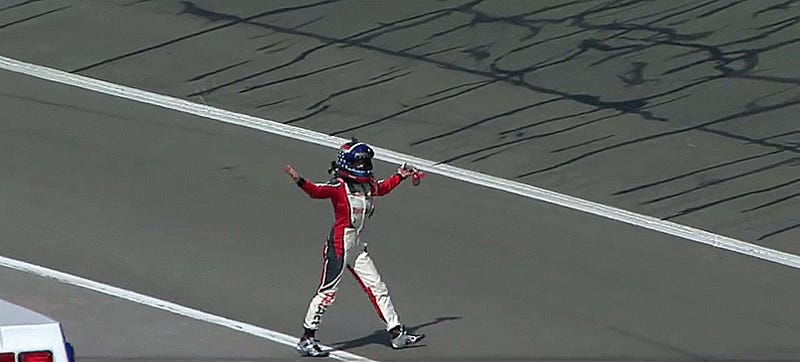 Two of NASCAR's biggest stars—Danica Patrick and Kyle Busch—received penalties today from NASCAR's weekend at Auto Club Speedway. Patrick's penalty is a clear message that NASCAR wants no one to ever walk towards the track itself, and Busch's may involve something else he said. (Big "may.")

Let's take a look.

Danica In Doo-Doo


Danica Patrick's crash at this weekend's Sprint Cup Auto Club 400 was arguably the result of Kasey Kahne clipping her car's rear quarter panel and spinning her out of control. Danica was understandably mad—so mad that she walked towards the hot track on the track's paved apron to put her hands in the air as Kahne drove on by.

There was some debate as to whether Patrick would receive a penalty for this, as she never ventured over the white line that separates the track's apron from the banking of the track itself. Still, this was enough of an excursion onto the "track surface" for NASCAR, as they deemed Patrick to be in violation of Section 10.4.2.1 of the NASCAR Rule Book, which pertains to on-track incident procedures.

NASCAR has been taking this particular issue very seriously ever since the tragic death of driver Kevin Ward Jr. during a sprint car race, where Ward was attempting to confront Tony Stewart outside of his race car over an on-track incident. Today's decision shows that they still won't budge even a little on this rule. Patrick was given a $20,000 fine and a four-event probation (wherein she can't make any other mistakes) for her lively gesture.

Moral of the story? Don't approach a hot track unless you have a nice-safe metal cage on four wheels around you. It never, ever ends well, even if you're not directly playing in race traffic.

Was Busch's Penalty Really For Skipping Out On The Media?


Kyle Busch's penalty from the NASCAR Xfinity Series' TreatMyClot.com 300 race is officially listed as a violation of Section 10.4.2 i of the rules, wherein the second and third place drivers must report to the media center after the race unless otherwise released.

Reigning 2015 Sprint Cup champion Busch's winning streak in punching down NASCAR's second-tier Xfinity Series ended this Saturday when his car went down with a flat front left tire on the last lap. Busch was not released from his media obligations, but he made a beeline for his team's hauler anyway after climbing out of his car.

Busch was fined $10,000 and also put on a four-race probation by NASCAR.

Fair enough—the media center is where many reporters are glued to their seats after a race. Journalists covering the event expect and rely on drivers to come have their say on what happened during the race in the media center.

However, many pundits were wondering before the penalties were handed out today if Busch's angry radio allegations of NASCAR "fixing races" would trigger a harsh penalty in its own right. Busch said over his team radio after the race, as quoted by Beyond the Flag:

Debris all over the race track and they don't throw a yellow. I'm just so pleased with you, NASCAR. Thanks. Y'all are awesome. Fixing races.

NASCAR Executive Vice President and Chief Development Officer Steve O'Donnell certainly made several comments on NASCAR's website that insinuated that the entire picture—including Busch's less than flattering radio commentary—would factor into any penalty decisions:

First, I'll say I applaud Kyle's passion because at the end of the day, the guy wants to win and he's not happy when he doesn't, so you always want to see that. Little disappointed, sure, in terms of the post-race comments and certainly the media obligations. Yeah, we'll review everything. That's part of what we have to do. We'll look at video of any incident, audio and certainly post-race. We'll do that as we get back from the West Coast and meet this week and see what — if anything — we've got to do.
Oops. Even if you think the pop-prone tires are rigged for maximum drama (myth plausible: have you seen F1's terrible Pirellis in action?), NASCAR doesn't usually take kindly to drivers insinuating as such on a public radio channel.
On the other hand, NASCAR didn't penalize the critical Tweet posted by Martin Truex Jr.'s crew chief Cole Pearn from the same weekend. A tight pass made by Joey Logano during the Auto Club 400 ended with Truex Jr. brushing the wall, and Logano going on to a fourth place finish.

Pearn's tweet insulting Logano for the move was deleted, but was kindly screenshotted by a racing fan on Twitter:

Maybe we're seeing a kinder, gentler NASCAR wherein participants are able to say whatever's on their mind without fear of repercussion. By golly, that sounds almost downright nice, even though it pertains to items easily file-able under "never tweet."

Either way, I can appreciate the lack of penalties for both Busch and Pearn's frustrated words. Pearn even apologized after pulling his initial tweet:

O'Donnell explained NASCAR's attitude towards tweets like this on NASCAR's website:

[F]or the most part, we want to be as liberal as possible because we like the emotion, first of all we like the interaction with race fans, which is mostly positive. I think our drivers and industry do a tremendous job on social media, but everything has to be reviewed and that's part of what we have to do as a sport.

That's actually a bit of a relief, given NASCAR's insistence that drivers remain outwardly uncritical of the racing product, even though it deserves a critical eye. Few fans like to see heavy-handed penalties being handed down for simple driver and team disagreements, be it with each other or with the series itself—especially when it's just a bunch of angry mouthing off on Twitter. Let 'em settle who's boss out on the track.

Maybe it's time to look into that popping tire issue, though. No one wants a repeat of the 2013 British Grand Prix, especially during a NASCAR season that's produced some decent racing so far. Get that issue with tires responding very poorly to heat (via debeading and other failures) fixed as soon as possible, NASCAR. Thanks in advance.