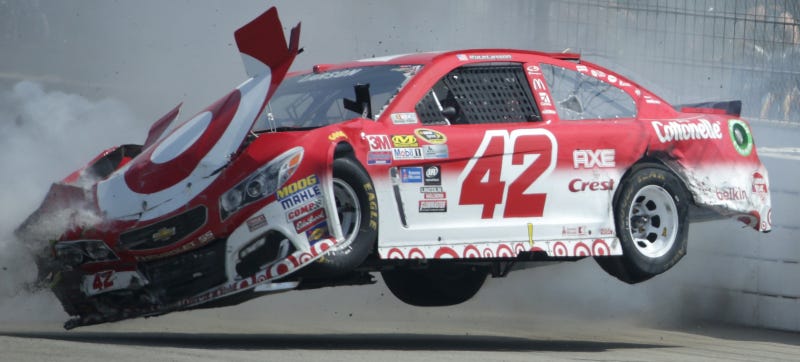 Young Kyle Larson managed to walk away from an incredibly hard hit at last weekend's NASCAR Sprint Cup Auto Club 400, but unfortunately, he didn't walk away completely unharmed. He's still quite a bit sore from that one.

Larson lost a tire during the Auto Club 400, sending his car first into the track's outer wall, and then into the inside wall—hard. The car was bounced back up in the air, where it landed on its wheels.

According to NASCAR, Larson planned to race a sprint car at Placerville Speedway in California tonight, but he'll be sitting it out because he's still feeling the effects of having his car tossed into the air by a SAFER barrier.

Larson tweeted to his fans that he'd be there anyway to hang out:

Either way, that was no small hit. Here's hoping the rest of the aches and pains go away soon. Fortunately, with Easter this weekend and no Sprint Cup race until April, it gives him an extra week to recover.